Samsung Galaxy S4 Android 4.4 update via CyanogenMod review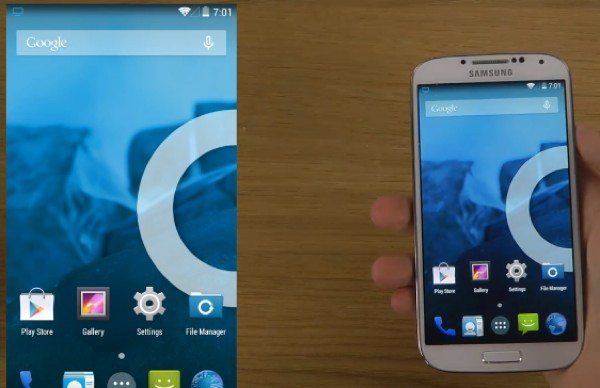 Many device users are currently waiting for the Android 4.4 KitKat update to arrive for various smartphones and tablets. The update is not yet available for Samsung's standard version of the flagship Galaxy S4, but today we can show you a video review of the Samsung Galaxy S4 Android 4.4 update via CyanogenMod 11.
Although the official Android 4.4 update has come to the Google Play edition of the Galaxy S4 it hasn't spread to other Galaxy S4 versions so far. This has led to a certain amount of consternation among Galaxy S4 owners who have been somewhat frustrated by the lack of info from Samsung about when this update may arrive for their device.
A leaked Samsung roadmap suggests that Android 4.4 could arrive for the Galaxy S4 and Galaxy Note 3 in January, but it's important to remember that this has not been confirmed by the company at this point.
Rather than wait for the official update to arrive, some Android enthusiasts will choose to go down the unofficial route with custom ROMs. While we can never recommend that device owners use unofficial updates we know that some choose to do so.
The 9-minute YouTube video below this story shows the Samsung Galaxy S4 installed with CyanogenMod 11 Android 4.4 KitKat in a review. The video will give you a taste of what you can expect with Android 4.4 for the Galaxy S4 and starts with the lockscreen before taking a look at the camera app.
The video goes on to look at some of the special additions for Android 4.4 KitKat regarding personalization, how to assign shortcuts, and the quick settings panel. It then shows many other aspects such as wallpaper options, widgets, Google Now, the new dialer and more.
It's an interesting look at what the Galaxy S4 with Android 4.4 has to offer and the reviewer seems pretty impressed as you can see for yourselves by checking out the video below. We'd like to hear your thoughts on the Android 4.4 update for the Galaxy S4 via CyanogenMod 11.
Are you eagerly waiting for the official Android 4.4 update to arrive for the Samsung Galaxy S4? Are you impressed at what is shown in the video and has it given you a taste for more? Let us know with your comments.