Aldi Medion Lifetab tablet vs Tesco Hudl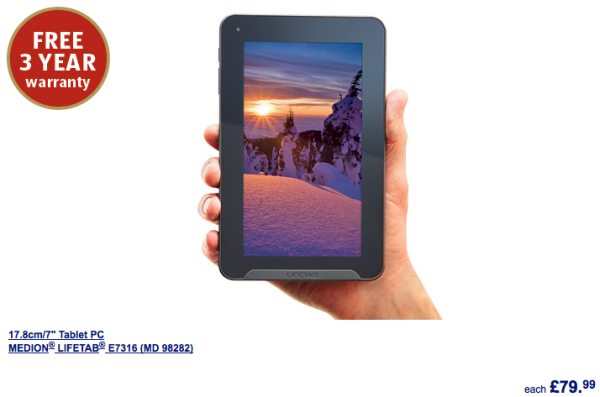 The latest retailer to step up to the bench in supplying a cheap Android tablet to rival the likes of Argos and Tesco is Aldi, say hello to the new Aldi Medion Lifetab 7-inch Android tablet that is very competitive indeed.
The Aldi Medion Lifetab and the Tesco Hudl are very similar indeed when it comes to the specifications, and it is going up against the Hudl, Kindle Fire and the Argos MyTablet, these are all 7-inch.
We are not going to do what everyone else is doing and compare it to the Nexus 7 today, this is simply down to the Nexus 7 being so much superior on the specs front.
Aldi is selling the Medion Lifetab E7316 for only £79.99, and this price surely makes it a highly competitive budget tablet. The Kindle Fire is £99 and the Tesco Hudl goes for about £119 or less, so for only £79.99 that's a great price.
In a nutshell the Aldi Medion Lifetab 7-inch tablet slashes £20 of most similar tablets, the Aldi tablet comes with a 2-megapixel rear and 0.3-megapixel front-facing camera, Google Play store access, free apps pre-loaded, 30-day trail of Kaspersky Tablet Security and Microsoft Office compatible work suite.
The tablet also has a 7-inch 1024 x 600 pixel multi-touch display, runs on Android 4.2.2 Jelly Bean operating system and powered by a 1.6GHz Quad Core processor. You can buy this new tablet via Aldi right now.
The Tesco Hudl has a 7-inch 1440 x 900 HD screen, Android Jelly Bean 4.2.2 operating system, 16GB storage, microSD card slot, 1GB RAM, Quad-core 1.5GHZ processor, Wi-Fi only, Bluetooth 4.0 and more, please visit here for full specs.
Would you rather buy the Aldi Medion Lifetab tablet or the Tesco Hudl?