Sony Xperia Pix Cybershot phone prospect entices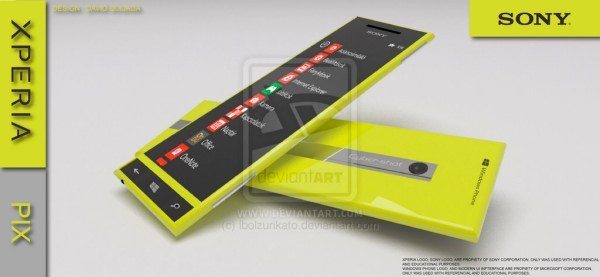 So how do you like the idea of a new Sony Cybershot Windows Phone handset? Yes, we do too as the prospect sounds quite enticing. We have just such a device to show you today, but we'll point out from the off that the Sony Xperia Pix is a concept design.
There are some interesting concept devices being created lately and the idea of this Sony Windows Phone Cybershot handset is intriguing. We imagine that this Sony creation could give the Nokia Lumia Pureview smartphones a run for their money in the cameraphone stakes.
This concept render comes from designer David Quijada over on DeviantArt, and it even features the yellow color made popular with the Nokia Lumia handsets. As you can see the Sony Xperia Pix device has a long polycarbonate-looking body with the Cybershot shooter clearly shown.
We're not sure whether that's a very large camera button or whether it's for a zoom function and Concept Phones have also come up with their own idea of suitable specs for the Xperia Pix. These include a Snapdragon 800 quad-core processor, 6-inch Full HD display, 32GB of storage and a 20-megapixel Lens G camera.
Of course the Xperia Pix would also be likely to have an impressive array of camera apps and it would probably run Windows Phone 8.1. You may also be interested in another recent Sony Xperia concept here. We'd love to hear what readers think about this latest concept design so do send us your comments.
Would you like to see a real device along the lines of the Sony Xperia Pix in the pipeline?