QuizUp Android app release for 2014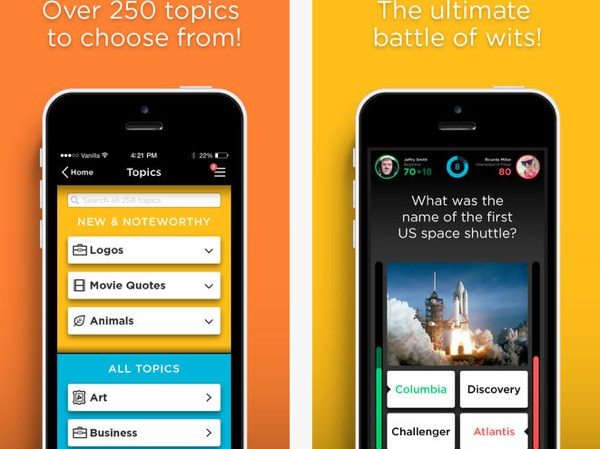 We always try to bring readers news on some of the best or most popular apps around and today we want to talk about the QuizUp This is a recent addition to the scene for iPhone and it's fair to say that this app is currently taking the world by storm. Unfortunately the QuizUp Android app release won't take place until some time in 2014.
QuizUp is available on the Apple App Store for iPhone, iPod touch and iPad users and it's a free trivia app that enables players to pit their wits against friends and other players from around the world. We can vouch that this is an entertaining and addictive app that has a huge variety of categories.
Although QuizUp only released in November it has already gathered over 4 million users who enjoy playing from over 250 topics and more than 150,000 questions available. Top topics include TV shows, sports, music, books, games and movies and there really is something for everyone.
Quiz Up: The Biggest Trivia Game in the World comes from Plain Vanilla Corp and its success must have even taken the creators by surprise. Sadly for the many Android device users out there, this app is not yet available for that platform.
This is something we are noting more and more lately, with many apps being released first for iOS devices and the Android version not following until later. Just one example of this is the new Cut the Rope 2 app, which is arriving before Christmas for iOS but hasn't yet been given an availability date for Android users.
We know from the many comments that we receive from our Android device readership that this is something that causes a lot of frustration, and the same story now applies to QuizUp. There might be a glimmer of hope on the horizon though.
Although no date for a future release on Android has been given by Plain Vanilla, Forbes recently reported that "the team is working around the clock to maintain operations and prepare for Android release in January 2014."
If you haven't yet heard about the app then QuizUp is currently available at iTunes here for iOS devices. We can only hope that the Android version does indeed arrive in January and that Android gamers won't have to wait too much longer to enjoy the delights of QuizUp.
Are you eagerly waiting for the arrival of the QuizUp app on the Google Play Store? Maybe you're heading to the App Store to try out the iOS version? If you're an Android user do you find it annoying that so many apps release for the iOS platform first?