Boxhead Zombie Wars 3D for apocalypse mayhem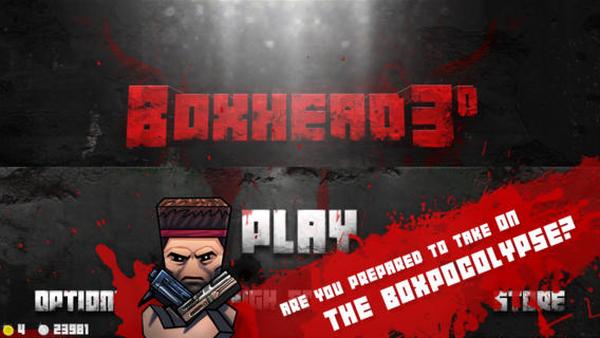 It is not unusual to see popular games ported over to mobile platforms for users to enjoy with a number of hugely successful titles making the transition to mobile devices, and today we have news of the recently released Boxhead Zombie Wars 3D for some apocalypse mayhem.
This latest release is brought to you by MEDL Mobile with the original Boxhead game based on the online version of the game that has enjoyed over 15 million players taking part. The original Boxhead The Zombie Wars iOS game was released back in 2009 and was also downloaded by millions of iPhone users.
Now a new version is available and features some cool characters with some neat and clever names such as Jon Bambo, Sean Can Van Bamme, Chuck Boris, and Barnold Schwarz who just so happens to be Austrian.
The new game features some great 3D graphics with more heroes and baddies added as you take on wave after wave of flesh eating zombies. There are a number of deadly weapons available but you can collect more that are left behind by defeated enemies, and you can also collect coins to upgrade them.
As you progress and the stronger you get so do your enemies and as you collect the coins new stages are unlocked as well as calling on some of your hero's team to aid you in defeating those pesky zombies.
Boxhead: The Zombie Wars 3D is available free on the App Store for owners of the iPhone, iPad, and iPod Touch 5G running iOS 6.0 or later.