HTC One 24k gold edition hands-on video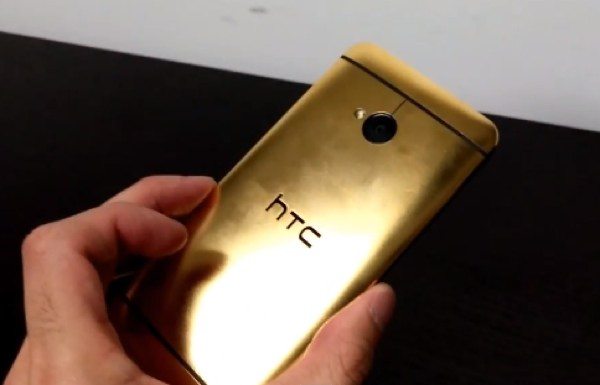 The HTC One flagship smartphone is still going strong and has been a huge hit with consumers. It has been so popular that HTC has already come up with various special editions. Now an HTC One 24k gold edition has been shown in a hands-on video.
Previously HTC produced an 18k gold version of the phone to celebrate the MOBO awards, and this was followed by news of a new HTC One gold-colored edition to go alongside the other color options. Now a 24k gold HTC One has emerged that has 24-carat gold plating.
This is a special handset and the 3-minute YouTube video below shows the HTC One 24k gold edition with exactly the same design as the standard aluminum One. The video notes that the phone has pretty much the same dimensions and weight and that it also has the same hardware, such as a 4.7-inch 1080p Super LCD3 display, Snapdragon 600 quad-core processor, etc.
Viewing the video will give you a really good look at this 24k gold HTC One close-up and shown from all angles. Obviously this gold-plated version won't have the usual price and in fact it has a price tag of around $2500.
However, this special HTC One won't be on sale in the usual way as it's a limited edition, so there's no point popping to a carrier or store and hoping to pick one up. The video ends with details of a contest that HTC is running right now where two lucky winners will be given one of these handsets.
You can check out the video for details on the competition, and as there won't be many of these 24k gold handsets available it's likely to be the only chance you'll get to see this device. That is unless you're fortunate enough to win the contest of course!
What do you think of the HTC One 24k gold edition? Will you be entering the competition to win one of these very special smartphones?