Samsung Galaxy Note 3 vs LG G Flex, killer phones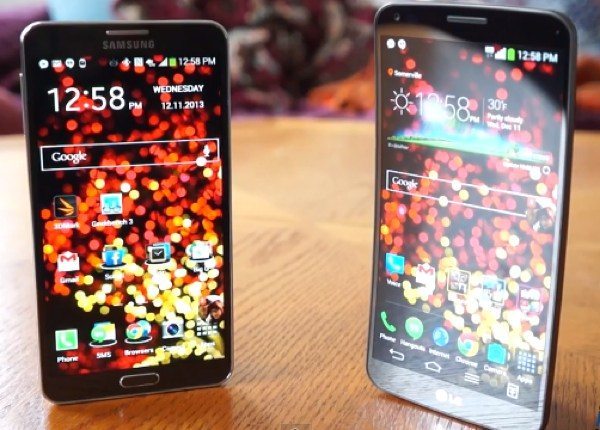 If you're in the market for a tablet device this holiday season the Galaxy Note 3 and LG G Flex are two recent candidates that you might be considering. To offer you a good perspective of what each phone has to offer and how they compare we have a video to share that shows the Samsung Galaxy Note 3 vs. LG G Flex.
The Galaxy Note 3 is readily available worldwide while the LG G Flex release is still slowly rolling out in different regions. The Galaxy Note 3 has received plenty of praise, and the more recent G Flex phone is creating waves as it has a distinctive curved flexible design that offers something a bit different.
We've written many posts now on the Galaxy Note 3 and G Flex smartphones that you can check out at the links. However, sometimes it can be easier to digest information from a video, as well as getting a good look at the devices concerned.
The 10-minute YouTube video comparison that we have embedded for you below this story comes from Pocketnow and gives a really good overview of the Note 3 and G Flex. The video begins with a look at the design of both handsets with the 'self-healing' coating of the G Flex a point of interest.
It goes on to give an insightful tour of the hardware and looks at aspects such as the displays, processors and storage before the software is discussed and the benefit of the Galaxy Note 3 included stylus. The video also goes into call quality, cameras capabilities and performance, battery life and more.
In conclusion, the Galaxy Note 3 often walks away from these types of comparison as the clear winner, but when up against the LG G Flex the verdict is not quite so obvious. The reviewer advises which might be best for different people so we'll let you check out the video for that.
These are two killer smartphones and after you've watched the video below we'd be really interested to hear your own judgements on these phones. Does the Samsung Galaxy Note 3 have more appeal for you than the LG G Flex or vice versa? Send your comments to share your thoughts.