Xiaomi Magic Cube modular phone vs Project Ara Phonebloks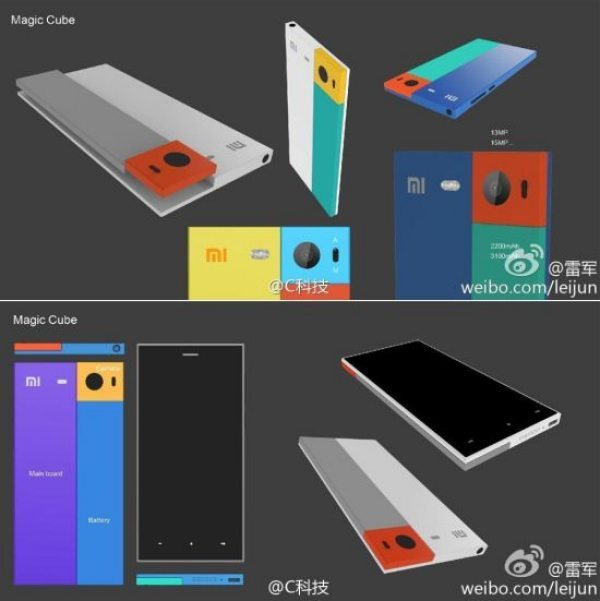 So many companies want a piece of the action when it comes to designing a new smartphone with a difference, and one concept that really stands out from the rest is the Motorola Project Ara with Phonebloks connection — It now seems Xiaomi want a little of the limelight now.
When it comes to a modular phone there is only one original and that is Phonebloks, this idea was so interesting Motorola decide to start the new Project Ara, which has now been running for over a year and with Phonebloks on board we can hopefully see something special in 2014.
The new modular phone seen in the second picture blow is called the Xiaomi Magic Cube, and the new rendering shows of what the handset could look like design-wise.
It means consumers will have a core smartphone and then when they wish to can change the RAM, camera modules, storage memory and so forth. Former Android Vice President Hugo Barra is on the Xiaomi Magic Cube team so we know good things will be coming.
The Motorola Project Ara connection with Phonebloks
Good things will be coming but when you put the Xiaomi Magic Cube up against the Motorola Project Ara Phonebloks design we have to say Xiaomi loses this one. The Xiaomi Magic Cube rendering looks too animated and no real design factor is popping out to suggest it will be likable in the way it looks. The Motorola Project Ara looks like it has more swappable parts, which makes it more appealing.
The rendering you see below of the Xiaomi Magic Cube was showing on company CEO's Weibo profile page, bit for some unknown reason it is not showing anymore.
Would you prefer the Xiaomi Magic Cube or the Motorola Project Ara Phonebloks?
Source — Android Headlines