Nokia Lumia 1520 vs Samsung Galaxy Mega, HTC One Max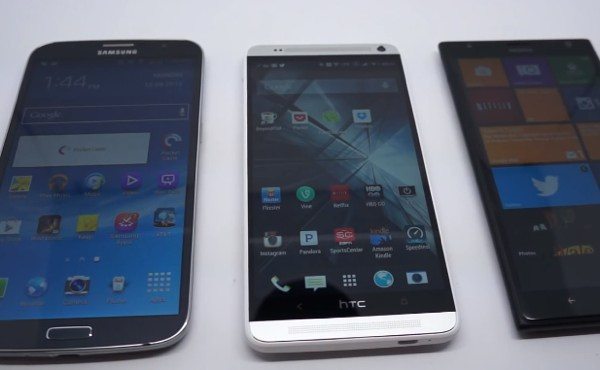 If you're a fan of giant smartphones then three choices of phablets that you might be thinking about purchasing are the Nokia Lumia 1520, the Samsung Galaxy Mega 6.3 and the HTC One Max. They all have different things to offer so you might like to check out a Nokia Lumia 1520 vs Samsung Galaxy Mega, HTC One Max comparison on video to see how they stand up against each other.
One of the main differences is the operating platforms with the Lumia device running Windows Phone while the other two handsets run Android. They all have large screens with the Galaxy Mega 6.3 obviously having a 6.3-inch display, the HTC One Max on 5.9-inches and the Lumia 1520 between them on 6.0-inches.
Below this story we've embedded a 14-minute YouTube video that takes a look at these three phones and will give you a good idea of what they have to offer. The video reviewer begins with pointing out that these phones each have different approaches and shows the design and hardware of the Galaxy Mega, before the same for the Lumia 1520 handset followed by the One Max.
It continues by taking a close look at the screen details of the three phones with the Lumia 1520 winning the verdict of best display. Software is then discussed and it's noted that the HTC One Max is running a later version of Android than the Galaxy Mega before the video goes on to detail the camera performances.
There's some good insight into the camera set-ups and it's the Lumia 1520 that comes out top again in this respect. However, although the Lumia 1520 is the most recent of these three devices, there are many more fans of Android phones than Windows Phone handsets and it may lose out on some buyers because of this.
The video concludes with giving advice on which device might be the best option considering personal requirements, although the Galaxy Mega 6.3 is not seen as a good option overall. We feel this video offers some interesting and helpful insight and hope that readers find it useful. You can also check out any of our previous posts on these three phones by hitting the above links.
Once you've taken a look at the video below we'd really appreciate hearing your views. Has the Nokia Lumia 1520 won you over, even if you haven't used a Windows Phone device before? Maybe you'll stick to one of the two Android phones? If so will you choose the HTC One Max or the Samsung Galaxy Mega? Let us know with your comments.