Motorola Moto G vs. HTC Desire 500 visually compared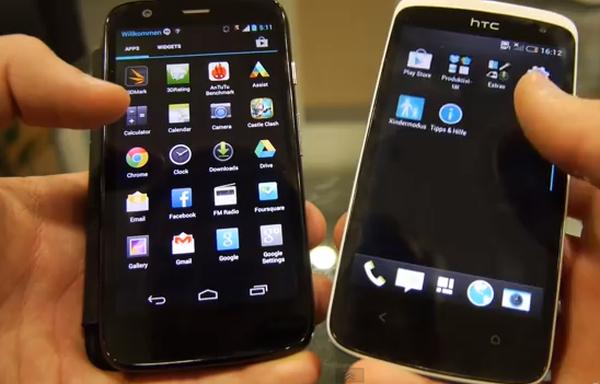 The HTC Desire range of handsets has always been popular and this year the company has expanded the range with a number of different handsets, and today we have the recently released Motorola Moto G vs. HTC Desire 500 as the two handsets are visually compared in a video.
Android fans have a number of good quality lower priced handsets on offer that includes both the HTC Desire 500 and the Motorola Moto G, and it can be sometimes hard deciding what handset to choose.
The video we have embedded below this page is having a quick look at the two handsets side by side weighing up the pros and cons of each device. We kick off by mentioning some of the specifications of both handsets and the fact they share the same processor under the hood and both have 5-megapixel rear cameras.
The Moto G has a slightly larger display while the HTC Desire 500 has more usable space due to the button configuration of the two devices. We get a look at the positing of the various buttons and cameras while the thickness of the two handsets is compared.
We see the rear cover of the HTC Desire 500 removed where a microSD card can be used to expand the storage and the fact the battery can be replaced when the handset is older. The HTC also features NFC connectivity which the Moto G doesn't, before the two cameras are quickly compared.
It was found that the colour reproduction on the HTC was slightly better and also has more of a wider angle available, before we see the two front facing cameras in action side by side. Check out the full video and tell us which handset you prefer.