Nexus 5 vs Lumia 1520 camera performances compared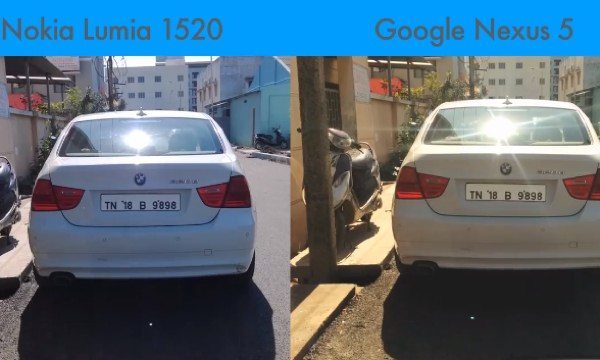 The Google Nexus 5 made by LG and the Nokia Lumia 1520 are two popular smartphones right now. They offer different user experiences as the Nexus 5 runs pure vanilla Android while the Lumia 1520 is a Windows Phone handset. Today we have a video to share that readers might find interesting as it shows Nexus 5 vs. Lumia 1520 camera performances compared.
The Nexus 5 and camera-centric Lumia 1520 both have a lot to recommend them and we've already posted a comparison review of these two handsets showing what they each have to offer in the way of specs and features.
However, a growing number of people are particularly interested in the camera set-ups of smartphones and what sort of photography results they can get from a device. For reference the Nexus 5 has an 8-megapixel rear camera with autofocus, LED flash, optical image stabilization, and 1080p video capture, as well as a 1.3-megapixel front-facing camera.
The Lumia 1520 on the other hand has a 20.7-megapixel Pureview camera with autofocus, dual-LED flash, optical image stabilization Carl Zeiss optics, and 1080p video recording capability, and also a 1.2-megapixel front-facing camera.
The YouTube video that we've embedded below is purely concerned with photography samples taken with the Nexus 5 and Lumia 1520 and shows them alongside each other. The image samples were taken in the same locations and positions and a number of different conditions such as low-light, outdoor, indoor, close-up etc.
The second half of the video shows video footage taken with both smartphones. From the results shown in the comparison video we feel there appears to be a clear winner as far as camera performance is concerned and that's the Nokia Lumia 1520.
We must point out though that the video doesn't make it clear whether the Nexus 5 is running the latest Android 4.4 update that brought real camera improvements. We would hope that's the case as the video is only two days old but we have no way of knowing.
However, we recently posted another video that showed the enhanced camera performance of the Nexus 5 after the update from Android 4.4.2 to 4.4, and a significant improvement was evident. Once you've taken a look at the video below for yourselves, we'd really like to hear thoughts from our readers about this, so please do send us your comments.
Do you have a clear winner regarding camera performance of the Nexus 5 and Lumia 1520 based on the video comparison? Maybe you have a Nexus 5 and feel these results don't truly reflect what the Nexus 5 is capable of camera-wise? Perhaps you feel it's obvious that the Lumia 1520 was always going to come out top considering its camera set-up?