Oppo R1 price and specs get official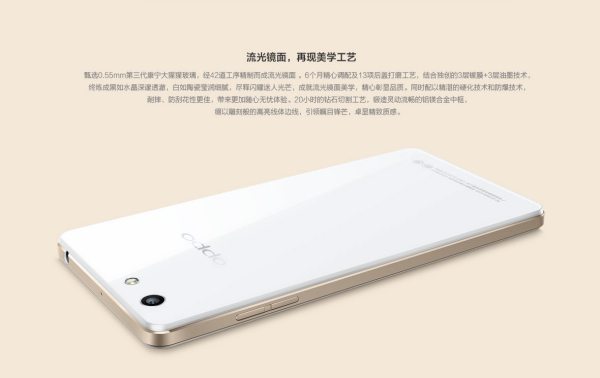 The Oppo R1 has been mentioned online a few times now, and there were a few hands-on shots of this super smartphone, now we have a few more details for you covering the specs.
Many of you have been probably waiting a lifetime for this new smartphone, and the good news is that the specs are very good indeed. The Oppo R1 comes with a 5-inch IPS display boasting a resolution of 1280 x 720 pixels with a 1.3GHz quad-core MediaTek MT6582 processor and 1GB of RAM.
The handset is 142.7 x 70.4 x 7.1mm in size and weighs only 140 grams. The Oppo R1 comes with an 8MP camera on the rear with f2.0 aperture as well as a 5MP front-facing camera for video calls.
Other key Oppo R1 specs include 16GB internal storage, WiFi, Bluetooth, TD-SCDMA/GSM, Android 2.2 Jelly Bean. It does not come with microSD card slot for memory expansion, which is a little disappointing.
The Oppo R1 can be purchased via the Oppo online for 2,498 Yuan, which is about $410. As far as the rest of the world is concerned we have no idea if the Oppo R1 will release anywhere else.
The Oppo R1 is a lovely smartphone with all the specs in the right places, it is a shame that it does not come with a microSD card slot and we can see this one thing being a problem with many Android users. However, the Oppo R1 should be released in USA and UK as well.
Is the Oppo R1 smartphone one thing you'd consider?