Retina iPad mini 2 vs LG G Pad 8.3 GPE comparison review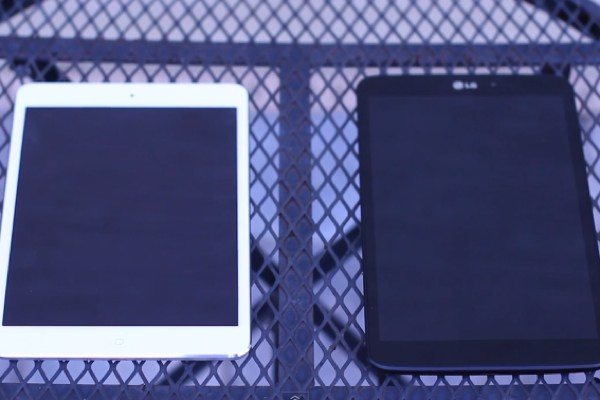 If you're in the market for a new tablet device and don't want one of the larger variety, then you may well be considering the Apple iPad mini with Retina display, aka iPad mini 2. Meanwhile the LG G Pad 8.3 released a few months ago but the Google Play Edition has recently become available. Today we want to share a Retina iPad mini 2 vs. LG G Pad 8.3 GPE video comparison review.
One of the major differences here is obviously the choice of operating system with the iPad mini 2 running Apple's iOS 7. The LG G Pad 8.3 is an Android device but whereas the original version ran Android 4.2.2 Jelly Bean, the Google Play Edition runs stock Android 4.4 KitKat.
The iPad mini 2 has a 7.9-inch display with resolution of 2048 x 1536 and has the new Apple A7 dual-core processor, while the LG G Pad 8.3 has an 8.3-inch display with resolution of 1920 x 1200 and packs a Snapdragon 600 quad-core processor. Design-wise they both have sleek and attractive aluminum builds.
The 7-minute YouTube video below this story gives a good look at both tablets alongside each other so it's easy to see how they compare in appearance, and it begins with discussing the build quality of each and dimensions. It then goes on to look at the displays of both tablets with the iPad mini 2 topping the G Pad 8.3 in this respect.
The G Pad 8.3 GPE does have expandable storage that the iPad mini 2 lacks though, and further information on these tablets then includes pricing, details of the operating systems, battery life, processors and more on specs. The reviewer found that both tablets perform well but slightly favored one over the other. However, in conclusion both were noted to be "fantastic tablets."
This video look offers a chance to see both tablets close up and gives some good insight into how to choose between them. You can check out the video below for the full story and we'd appreciate your thoughts when you've checked it out.
Did the video help you to decide which of these would be best for you? If you were purchasing one today would you pick the iPad mini 2, the LG G Pad 8.3 GPE or another tablet entirely? Let us know by sending in your comments, as we're always interested in what readers have to say.