Optrix PhotoProX iPhone 5 case offers waterproofing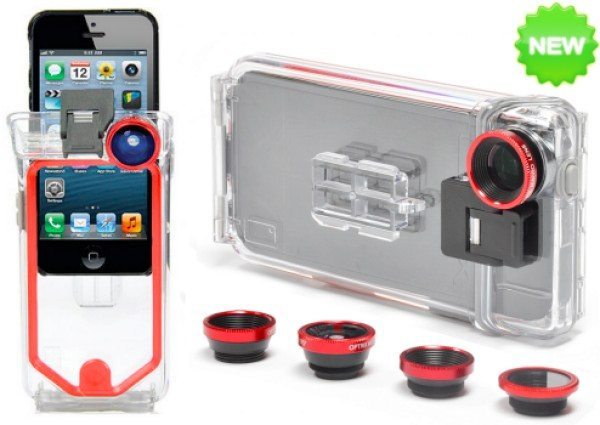 We like to bring readers details of excellent accessories for their various devices and Optrix is a name that some may recognize. The PhotoProX iPhone 5 case by Optrix offers waterproofing and is also compatible with the iPhone 5S.
The Apple iPhone is known for its excellent camera experience and this Optrix iPhone accessory should be a sure-fire hit with many readers that want serious protection for their device. It is not only waterproof to 33 feet with an IPX8 rating, but has drop protection of up to 30 feet as well.
The case also includes four interchangeable optical grade glass camera lenses that are all suitable for use underwater. These include a flat lens, macro lens, wide-angle Fish-eye lens (175 degrees), and telephoto lens (x2).
Your iPhone 5 or 5S clips into the lightweight but sturdy tray case that offers side and back protection and can be used independently as a standard case. A second part is a polycarbonate unibody that the tray case and phone slide into via a latch door opening.
The different lenses are easy to screw on and quick to change over and the case offers solid protection while the lenses utilize high-quality construction. The Optrix PhotoProX waterproof case plus lenses is not cheap with a price tag of $149.95. However, it will provide excellent protection for your iPhone 5/5S in all kinds of conditions.
You can see more about this iPhone 5 or 5S case or buy it right now at Optrix here. Are you tempted to treat yourself to the Optrix PhotoProX iPhone 5 and 5S case?