Cartoon HD app removal causes concern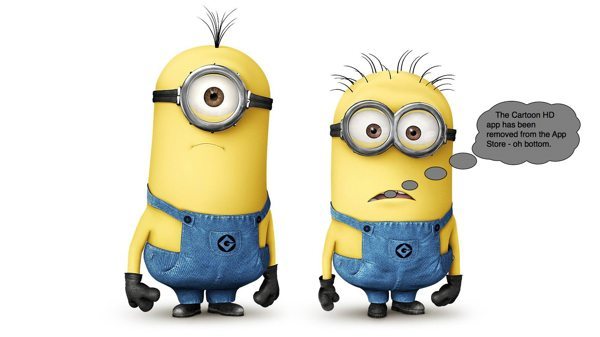 The Cartoon HD app went live in the App Store allowing those that downloaded it free access to all the cartoons your heart desires, there are no in-app purchases and shows many movies such as Harry Potter, Dragon Ball Z, Disney cartoons, Anime and so many more — but there is one downside that is causing concerns.
There are thousands of happy customers that downloaded the Cartoon HD app on iOS devices after seeing a message pop up on Facebook, the app was supposed to be around the £20 mark but it was available for free.
The app had cartons for the kiddies and even adults like Superhero movies and Despicable Me 2 etc, but Apple has since removed the app from its App Store.
The Cartoon HD app removal causes concern for so many that managed to get the application for free, and so many questions are popping up. Reddit is going ballistic with many comments and concerns that are well worth the read.
One question popping up more than anything is "Ok, so I downloaded this. If apple pulls this app, will I still be able to use this?
The answer to the question above is 'YES'; Apple cannot delete an app that you have already installed on your iOS device. If you have deleted the app you should be able to restore via iCloud, as far as we know Apple cannot touch your iCloud backups — we believe that Apple can totally remove it from the App Store and iCloud if given enough reason to do so.
Did you manage to download the free Cartoon HD app?