iPhone 5S vs Sony Xperia Z1 Compact initial comparison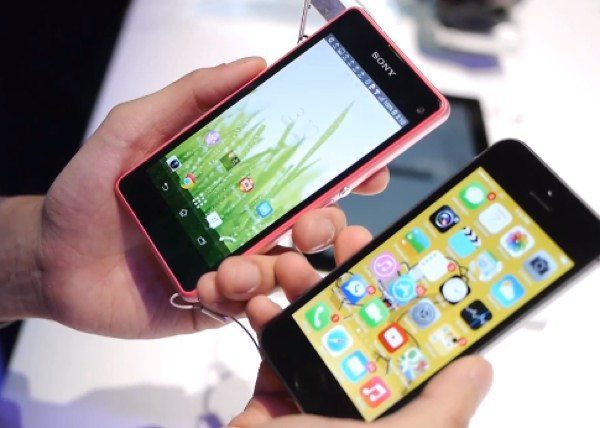 The Apple iPhone 5S released last year to the usual blaze of publicity and just a few days ago Sony announced a mini version of the flagship Xperia Z1, this time dubbed the Xperia Z1 Compact. Although it's a mini version of a larger device, the Xperia Z1 is still larger than the iPhone 5S and today we have a video to show of the iPhone 5S vs. Sony Xperia Z1 Compact and an initial comparison.
It says something about Apple iPhones at the moment that a mini edition of an Android smartphone still has a larger display than that of the iPhone 5S. Of course not everybody wants a massive screen, and as the display of the Xperia Z1 Compact at 4.3-inches is not much bigger than the 4-inch display of the iPhone 5S, these phones could be good competition against each other.
If you are open-minded about the choice between Apple's iOS and the Android operating system there's a chance you might be choosing between these two devices. The Xperia Z1 Compact release date has not yet been confirmed, but it's expected to arrive in Q1 so it might be here very soon.
Another thing to remember is that although the Xperia Z1 Compact is a mini Z1 it still has virtually all of the same top-notch specs of its larger sibling. The 2-minute YouTube video below was take at CES 2014 and shows a hands-on look at the Xperia Z1 Compact and iPhone 5S and begins with a look at how the overall sizes compare.
Build quality of both handsets is said to be excellent although the finish of the Xperia Z1 Compact is more prone to showing fingerprints. A big plus point for the Xperia Z1 Compact is that is also has the benefit of being waterproof. Performance of both is said to be good with plenty of decent features, and the camera set-ups are also detailed.
We'll remind you of the key specs of each. The iPhone 5S has a 1.3GHZ Apple A7 dual-core processor, 4-inch display with resolution of 1136 x 640 and 326 ppi, 1GB of RAM and 16, 32 or 64GB of non-expandable internal storage. It also has an 8-megapixel rear camera, 1.2-megapixel front-facing camera, and 1560 mAh battery.
On the other hand the Sony Xperia Z1 Compact has a 2.2GHz Snapdragon 800 quad-core processor, 4.3-inch display with resolution of 1280 x 720 and 342 ppi, 2GB of RAM, and 16GB of internal storage (expandable via microSD to 64GB). It has a 20.7-megapixel rear camera, 2-megapixel front-facing camera and a 2300 mAh battery.
The video below will give you a general first look at the iPhone 5S and Xperia Z1 Compact, but of course there will be much closer looks and reviews of the Z1 Compact to come. In a choice between the iPhone 5S and Sony Xperia Z1 Compact, which do you think you would purchase based on this initial comparison?