Nokia A110 shows up running Android KitKat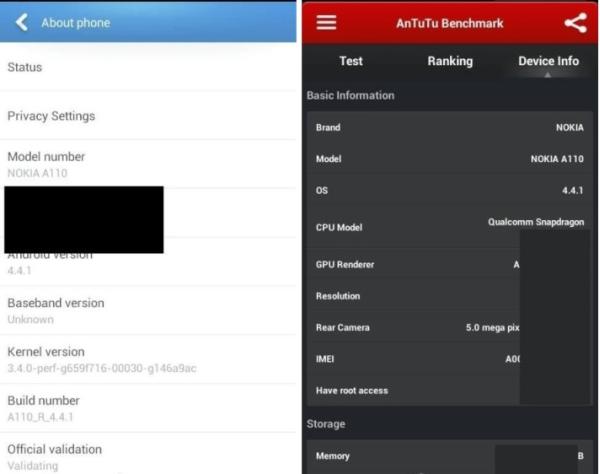 For a few months now we have been hearing rumours that Finnish smartphone manufacturer were busy working behind the scenes developing a handset for the Android platform, and now a Nokia A110 handset shows up apparently running Android 4.4.1 KitKat.
Talk started back in September of a Nokia device with the Android OS on board and only yesterday a supposed image of the device was leaked with some screen shoots in tow. Now an alleged handset with the model number of Nokia A110 has appeared on some AnTuTu benchmarks.
The benchmark results show that the device is running the Android 4.4.1 KitKat operating system, and is using a Qualcomm Snapdragon processor with a screen resolution of 854 x 480. There is also a 5-megapixel camera listed which suggests the device is a low end handset.
This fits in with previous rumours about the handset that looks to be a dual SIM device that resembles a Nokia Asha handset. There has also been talk that Nokia is looking to provide the handset with its own Android based operating system in a similar fashion to Amazon and the Kindle Fire devices.
Until we get to hear any official news from either Nokia or Microsoft this news will have to be taken with a pinch of salt, but even if accurate the device may not be enough for those that have long called for a Nokia device running the Android OS. Hopefully we may see something official at next month's MWC 2014 event.
Source: NPU.