Apple Back To School deals for Australia, NZ begin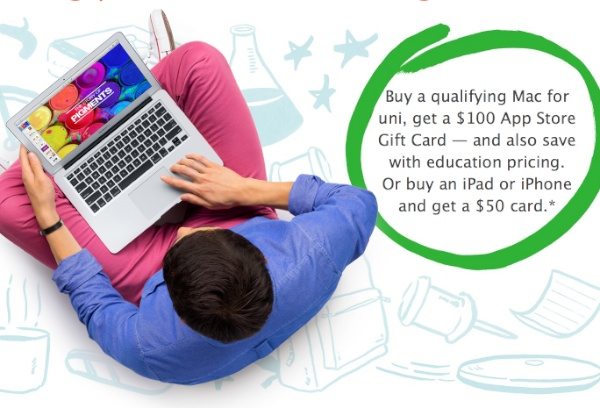 There's great news for some consumers in the southern hemisphere today as they will be waking up to find the Apple Back to School deals have begun for Australia and also New Zealand. We have further details of what's on offer ahead.
As you might expect Apple staggers the times of these promos to tally with different school calendars around the world. This promotion takes place annually and Apple has now launched this year's Back to School promotion for Australia and New Zealand.
Education customers in those countries can now receive free gift cards with various purchases to use in Apple's digital content stores. These cards can be used in the App Store, iTunes Store, iBookstore and Mac App Store.
Customers who buy a new Mac (but not the Mac Mini or Mac Pro) will receive an AU$100 or NZ$125 gift card. Those buying a new iPhone or iPad will receive a gift card to the value of AU$50 or NZ$65.
Apple's education pricing already discounts Macs to the tune of up to a few hundred dollars. Those eligible for the offers include higher education students, students who have been accepted to university, a parent buying on behalf of a uni student and faculty or staff members from any grade level.
The Back to School program will be available until March 20 for purchases made directly with Apple by phone or through its online store for education. Alternatively customers in Australia can also make these purchases at Apple retail stores there.
You can see more on the back to school promo at Apple Australia here or Apple New Zealand here. Are you a qualifying customer who intends to take advantage of the Apple Back to School deals? What do you think of what's on offer with this year's annual promotion for Australia and New Zealand?