Nokia Normandy Android phone seen in colour variety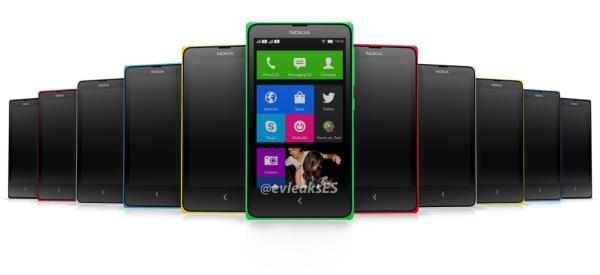 Speculation has been growing in the last few weeks that we may still see an Android based device coming from Finnish manufacturer Nokia, and now the Normandy Android phone is seen in a colour variety.
We have seen a number of images recently that are supposedly of a Nokia Android based handset, which have also included a working prototype out in the wild. Today evleaks has provided the image that you can see on this page that is again claimed to the Nokia Normandy.
As you can see it has a variety of colours which has become a trait for the smartphone manufacturer now, especially for its more affordable devices. Again the image shows a dual SIM handset that looks rather like the Nokia Asha range of budget smartphones.
This latest leak shows the Normandy with six different colour finishes that include black, cyan, green, red, white, and yellow. The image was accompanied with the "Nokia Normandies, 2014" phrase and shows some apps such as Twitter, Skype, and Plants Vs. Zombies among some others.
It also shows that the homescreen has the apps lined up in tiles in a similar fashion to what is seen with Windows Phone 8, and fits in with previous rumours that the company was developing an operating system along the lines of the Amazon Kindle Fire, which is based on Android.
Will you consider this handset?