Samsung Galaxy Trend, Core Plus spoon and fork test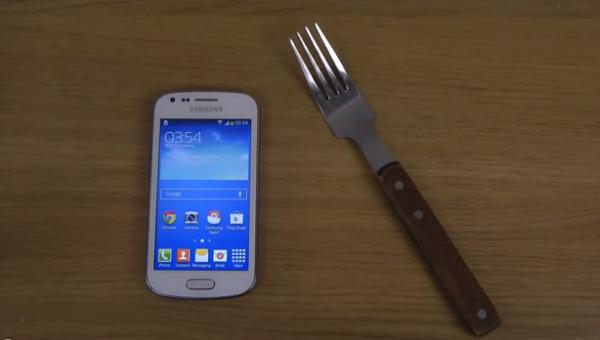 While we provide our readers with many video reviews of the various mobile devices that are released, sometimes we have something that is a little different or strange. That can certainly be said about the Samsung Galaxy Trend and Galaxy Core Plus videos that we have for you today that also feature a spoon and fork test.
Many will think that the numerous drop test videos we have for you are bad enough, but the two videos we have embedded for you below this article are what many will call strange but funny all the same.
The first video features the Samsung Galaxy Trend as it comes under attack from a kitchen fork, and starts by the reviewer rubbing the fork across the display. The fork allows the user to scroll between the screens of the handset, before he uses it to tap on the settings option to eventually open it up.
He even manages to open some apps using the fork and play the Fruit Ninja game, but why you would want to do such a thing is anybody's guess and something we can't recommend that you try with your smartphone.
The second video is basically doing the same test with a Samsung Galaxy Core Plus but this time the reviewer is using a spoon.