Sony Xperia E1, E Dual specs and more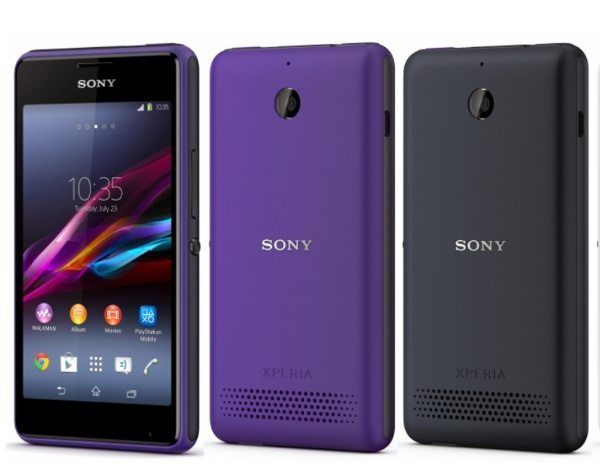 Sony has just officially introduced another in its lineup of Xperia smartphones. The Sony Xperia E1 is aimed at the more affordable end of the market, but maintains the stylish design of other Xperia handsets. We have details of Sony Xperia E1 and Xperia E Dual specs and more coming up.
The Xperia E1 is a mid-range device aimed at entry level, and it follows on from its Xperia E predecessor. It's powered by a 1.2GHz Snapdragon 200 dual-core processor and has a 4-inch display with resolution of 800 x 480.
The phone has 512MB of RAM, 4GB of internal storage (expandable via microSD to 32GB), a 3-megapixel rear camera with WVGA video capture capability, and a 1700 mAh battery. There's no news yet on what version of Android the Xperia E1 will launch with.
The Xperia E Dual was also announced and this is a dual SIM variety of the Xperia E1. Sony is making a big thing of its ClearAudio+ and XLoud technologies, which offer clear audio even when played at high volume.
The phone also has music app shake to shuffle support as well as a dedicated Walkman key. Although the materials used in the Sony Xperia E1 haven't yet been specified, it certainly looks as though the E1 has a nicely solid build.
The Sony Xperia E1 will arrive in a choice of three color options, black, purple or white. Sony hasn't yet informed us of an Xperia E1 release date or a price for that matter, but this phone will be a budget handset. You might also be interested in news of the Sony Xperia T2 Ultra that was also introduced earlier today.
What are your thoughts on the Sony Xperia E1? If Sony gets the pricing of this phone right, would you consider buying it or the Sony Xperia E Dual?
Source: Fone Arena