Galaxy Note 3 Android 4.4.2 update preview, benchmark, speed test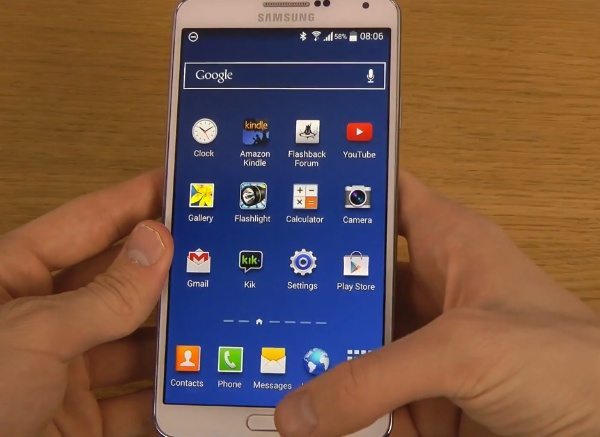 The Android 4.4 KitKat operating system launched last year and the update is slowly rolling out for different devices worldwide. Recently we heard that the Samsung Galaxy Note 3 Android 4.4.2 update was beginning to be pushed out to some owners of the device. Now we have a Galaxy Note 3 Android 4.4 preview, benchmark and speed test videos to share, to give a taste of this update.
When we recently reported about this for the Galaxy Note 3 the Android 4.4.2 update had started to roll out for the Snapdragon quad-core variety of the phone, and owners of the phone in Poland were already receiving it. It's worth bearing in mind that the update will arrive in stages and it may take some time to arrive for different regions and carriers so patience could be required.
If you have the Galaxy Note 3 and want an idea of what it will bring then the videos that we have embedded below this story will give you an idea. The first YouTube video is a preview of the Galaxy Note 3 running Android 4.4.2 KitKat. It's a 5-minute look using a leaked build and shows some of the improvements, changes and new features offered by the update, giving a nice overview of the phone on 4.4.2.
The second video shows a Galaxy Note 3 Android 4.4.2 benchmark test. The Geekbench 3 test is shown being conducted on the Note 3 and single-core and multi-score results revealed. We won't give the exact results here as you can check it out for yourselves by watching the video, but the results are pretty impressive.
The third and final video we have for your viewing pleasure shows a Galaxy Note 3 Android 4.4.2 Internet speed test. You'll see the test taking place and download and uploads speeds shown with notable speeds overall. The test is repeated a few more times for consistency and again good scores are noted.
Once you've checked out the videos below we'd really like to hear your thoughts on the Samsung Galaxy Note 3 Android 4.4 update. Are you eager for the official update to arrive for your Galaxy Note 3?