Vivitar IU680 mad camera lens fitted to iPhone 5S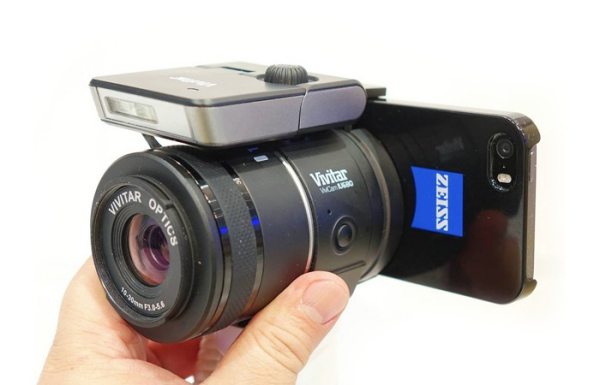 The love for unique, crazy and sometimes mad smartphone accessories is always exciting, and the one that has just entered the mad category is the Vivitar IU680.
The Vivitar IU680 is a mad but stunning smartphone interchangeable lens system, this new camera lens product has not yet been announced officially, which obviously means there is no release date or price tag.
There are so many camera lenses for smartphones and some of the best out there includes the Sony QX100 and QX10, now it is the turn of the Vivitar.
It was at the CES 2014 show the Vivitar IU680 was unveiled, and there is not a lot of information as of yet. It has been said to come with the T mount, which means it can accept interchangeable lenses.
The photo below shows a number of things, for example the iPhone 5S is being used and the smartphone is sitting in a case that attaches to the Vivitar IU680 lens, this means that there will be a selection of cases to choose from so that most top brand smartphones will work with it.
It also has Zeiss printed on the back of the iPhone 5S case, looks like this will be a feature and the lens comes with a removable flash located on to of the Vivitar IU680 interchangeable camera lens, low-light condition friendly it is then.
As soon as we know more about the Vivitar IU680 we will let you know more — How much would you be willing to pay for the Vivitar IU680 smartphone interchangeable lens camera system?
For more photos please visit Photo Rumors.