US HTC One Android 4.4 update nears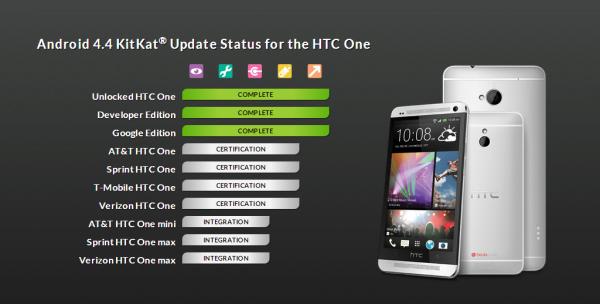 There are a number of flagship smartphones on the Android platform that are currently receiving or in the process of being made ready for the latest version of the operating system, now the US HTC One Android 4.4 KitKat update is getting closer to a release following some official confirmation.
Towards the end of last year we brought you news of a new website that HTC had set up for US owners of its smartphones that provided information about upcoming firmware updates. Now the image that you can see on this page was taken from that website and clearly shows that the Android 4.4 update is currently at the certification stage for the four major carriers in the US.
It shows that the AT&T, Sprint, T-Mobile, and Verizon Wireless versions of the new software update are currently being tested, and HTC also took to its Twitter account to confirm that the software has hit the carriers to go through the final testing process before its release.
Previously the update was promised to arrive for all versions of the HTC One around the world during the January/ February timeframe, and as long as there are no problems found with the software this release should be met.
Of course some carriers are notorious for taking ages to get firmware updates out to its devices, but hopefully if you own the HTC One via one of these carriers the wait for Android 4.4 KitKat is almost over.