iPhone 5S latest beta vs Nexus 5 Android 4.4 browser and boot-up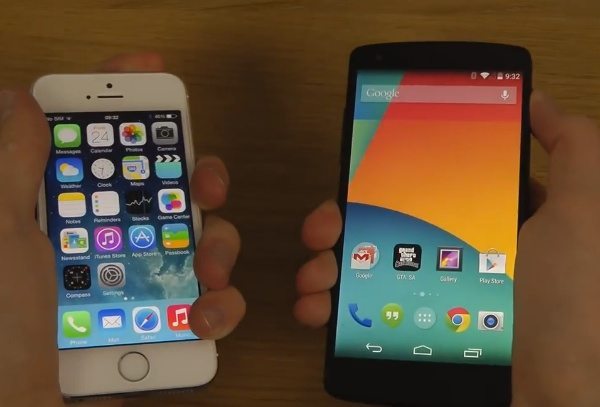 Apple's iOS 7.1 is currently in development and beta 4 recently released to developers. It's anticipated that iOS 7.1 may see a public release in March but at the moment it has been interesting to see what it has to offer in the beta stage. Today we want to show you the iPhone 5S on the latest beta vs. Nexus 5 browser and boot-up comparisons.
We've already shown readers an interesting Internet speed test of the iPhone 4, 4S, 5 and 5S running iOS 7.1 beta 4. This time we're concerned with the browser experience and also a look at whether the iPhone 5S or the Nexus 5 is faster to boot up.
The first YouTube video that you can see below this story shows the iPhone 5S on iOS 7.1 beta 4 and the Google Nexus 5 on Android 4.4.2 KitKat, which is the latest iteration of Android. This is a browser test and begins with showing that the iPhone 5S appears faster to react when trying to zoom in on a page.
Another thing noted is that with the Nexus 5 if you want to go back it has to reload the page while this is not necessary with the iPhone 5S. Speed on both is very good, although it's then shown that scrolling up or down a page on the iPhone 5S is much slower than with the Android Nexus 5.
The video continues with a few more pointers about both of these handsets and their respective browser experiences but we'll let you check it out for yourselves when you view the video. The second YouTube video that we've embedded below is a simple boot up test with both handsets to see which powers up faster.
Again the iPhone 5S is running iOS 7.1 beta 4 while the Nexus 5 is on Android 4.4.2 KitKat. The video begins by showing that the handsets are indeed running these respective versions and you'll then see both devices being booted off before being powered back on again.
There are some interesting observations made about what's shown here with the iPhone 5S on iOS 7.1 beta 4. We'll let you watch the video to check that out and see which smartphone was fastest to power on.
We'll remind you that iOS 7.1 could be further changed by the time it reaches a final build. You might also be interested in our previous post about an iPhone 5S iOS 7.1 beta 4 vs Galaxy Note 3 Android 4.4 comparison here.
When you've taken a look at the videos below we'd like to hear your thoughts on the iPhone 5S running this latest beta of iOS 7.1 vs. the Nexus 5 on the latest official Android version. Are you eagerly waiting for iOS 7.1 to reach a general release or are you an Android device user through and through?