Samsung Galaxy Skin flexible phone 2015 possibilities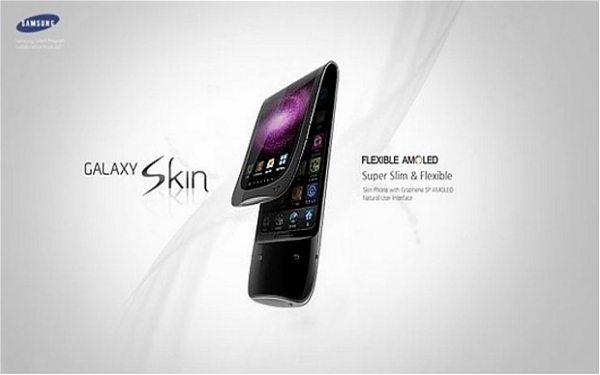 Back in 2011 there were reports of a new smartphone called the Samsung Galaxy Skin with a special AMOLED display made with graphene material, this is said to be the flexible foldable phone. So far we have heard no more of it until now and could see a 2015 release possibility.
The Samsung Galaxy Skin (Watch Video Here) was said to come with specs such as 1GB RAM, 1500mAh battery, 4-inch flexible AMOLED display, 8-megapixel rear facing camera with a VGA on the front, as well as a 1.2GHz processor and 16GB and 32GB. Now to be brutally honest this handset with these specs would not cut it in this market, even the mid-range phone comes with key specs like this.
Behind CES closed doors, Samsung was apparently showing a new foldable AMOLED display, ETNews reports that Samsung showed off a new 5.68-inch high resolution prototype display, it apparently has a new plastic substrate, which basically means there could be a paper thin display would be flexible.
This could possibly mean that the Samsung foldable AMOLED smartphone could be the Samsung Galaxy Skin.
ETNews quotes —
This time the display is released by 5.68 inches in size using a plastic substrate, an active (AM) organic light emitting diode (OLED) multiple. Degree of film polyimide (PI) using a paper-like substrate is thin and is characterized by folded extendible.
Do you think the Samsung Galaxy Skin with more powerful specs and materials could actually release in 2015?