Maroo Kope cases for Microsoft Surface tablet range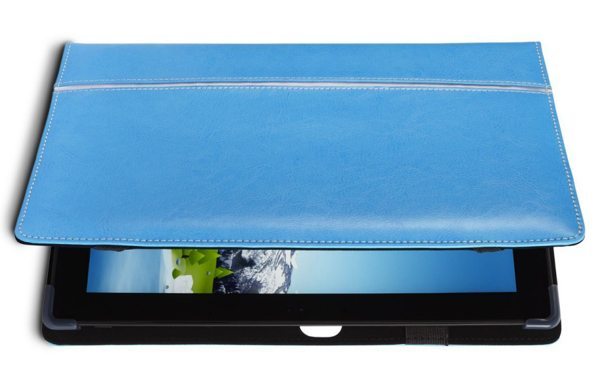 Maroo has partnered with Microsoft to produce bespoke versions of its popular Kope case for the Surface tablet family. Kope cases offer amazing drop protection wrapped in high-grade leather, plus a flexible design that allows them to protect and support Microsoft Surface tablets either with or without the Touch or Type Covers attached.
Available in Obsidian black, blue and purple — Pantone-coordinated to Microsoft's own Surface keyboard range, the Kope cases are available in two sizes, to suit Surface/Surface 2 and Surface Pro/Surface Pro 2. All Kope cases feature Maroo's patented Safe Guard (SG) Bumper Technology. This allows superior drop protection compared to regular leather cases, without the bulk of 'rugged' designs; think slick, not brick.
The cases came about after Microsoft approached Maroo to become a Depth Partner. This partnership allows Maroo to work directly with Microsoft on developments for future products — collaborating on materials, fit and finish, and allowing Maroo cases to be ready for new Microsoft form factor releases.
Maroo Kope for Microsoft Surface range main features
They are made with a premium leather design, patented SG Bumper Technology securely protects Surface/Surface 2/Surface Pro/Surface Pro 2, as well as coming with a foldable front cover for easy typing and viewing, which means it will works with or without the Touch and Type Cover. It also has a portfolio style for 360-degree protection, non-scratch interior and access to all buttons and ports.
The new Maroo Kope cases cost £49.99 and are available from a range of retailers, including Amazon. Use the retailers just mentioned because we cannot seem to see them on the official Maroo website.
What do you think about the new Maroo Kope cases for Microsoft Surface tablet range?