iPhone 5S iOS 7.0.5 Benchmark and Internet speed tests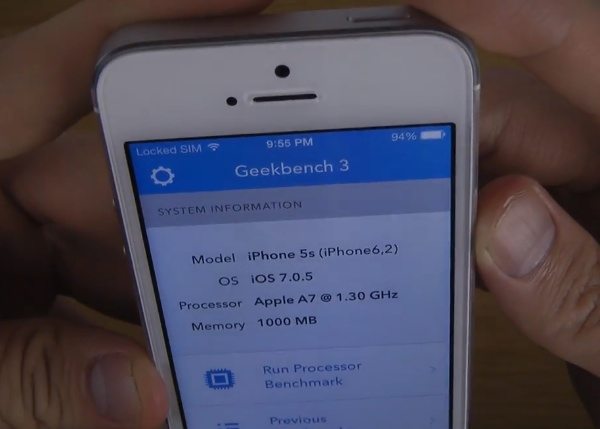 While there's been plenty of attention on Apple's upcoming iOS 7.1 update the company recently snuck out a more minor update in the form of iOS 7.0.5. Today we have some videos to share that show the iPhone 5S with iOS 7.0.5 in benchmark and Internet speed tests.
The more significant 7.1 upgrade for iOS is headed for a public release around March and is currently at the iOS 7.1 beta 4 stage in the hands of developers. We hadn't expected that there would be another update pushed out before 7.1 after iOS 7.0.4 but Apple surprised many of us with iOS 7.0.5.
However, the iOS 7.0.5 update is only available for select iPhone models in some regions (details here) so if your device hasn't received the update you shouldn't be too concerned. The two YouTube videos below this story show speed tests on the iPhone 5S with the iOS 7.0.5 update.
The first video is a Geekbench 3 benchmark speed test and shows the test being performed on the iPhone 5S running iOS 7.0.5. You'll see the single core and multi-core scores shown and the test is then run a couple more times for consistency.
If you have an iPhone 5S that's running iOS 7.0.4 rather than 7.0.5 you might find it interesting to run this speed test yourself to make a comparison. The second video shows an Internet speed test using the Ookla speed test app.
You'll see this test being performed on the iPhone 5S and then the upload and download scores are shown. As with the first video the test is run a few times for consistency. On the final run a higher score is attained.
Hopefully it won't be too much longer until Apple pushes out iOS 7.1 but until then we'd be interested in your thoughts on iOS 7.0.5. Has your iPhone 5S received the iOS 7.0.5 update? Do drop us a comment using the box below.