iWatch unlikely to have curved display or solar charging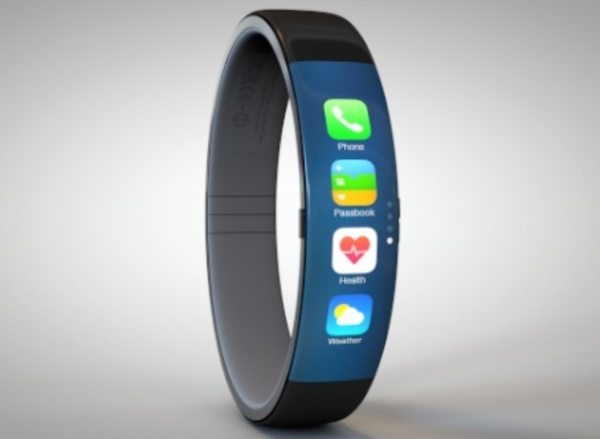 The Apple iWatch is a hot subject of discussion right now and there has recently been speculation that it could release at the same time as iOS 8 and the iPhone 6, probably around September. As well as hearing increasing leaks about possibilities for the iWatch we are now beginning to hear about aspects that are not likely, and two of these are a curved display and solar charging.
One of the longest-standing rumors regarding the iWatch is that it might have a curved display, and many of the concept designs that we've seen of the device so far feature just this kind of display, one of which is shown here. There has also been talk of solar charging capability for the iWatch.
While news that the iWatch will be a health-oriented wearable technology device was recently reinforced with a leak about a HealthBook app for iOS 8, the rumors about solar charging and a curved display now seem far less plausible following news about the batteries that will be used.
A new report cites industry sources that claim that the batteries used for the iWatch will NOT be curved but will be more like regular Li-on units made by LG and Samsung. However, it's also said that Apple could be using LG Chem's "stepped" batteries so they won't be quite like the standard units.
The difference in the "stepped" batteries is that are more energy efficient as higher capacities can be fitted in smaller amounts of space. With battery life a concern for wearable devices this would seem a logical move. The report also says that Apple is also keeping other options open for batteries as Tianjin Lishen Battery has also been approved as a supplier for the smartwatch.
It seems another reason that we're unlikely to see a curved display on the iWatch is that ergonomically it would be difficult to make this comfortable to wear for different-sized wrists. Were you hoping for an iWatch with a curved display? Let us know with your comments.
Source: Korea Herald