Samsung Galaxy S5 retail packaging and specs questioned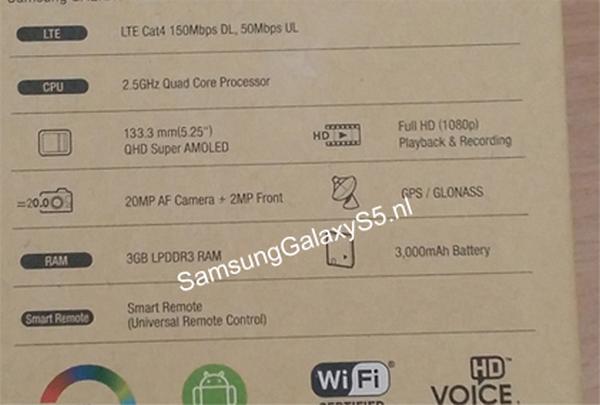 The rumour mill surrounding the Samsung Galaxy S5 is showing now signs of slowing down and even had Samsung providing teases earlier today. Now some supposed S5 retail packaging with listed specs are being questioned.
A retail box that is supposedly for the Samsung Galaxy S5 has been leaked with the image that you can see on this page. As you can see some specifications are listed that include a 5.25-inch QHD Super AMOLED display, 20-megapixel camera, 1080p video playback, 2.5GHz quad core processor, 3GB of RAM, and a 3,000 mAh battery.
Now some of these specs such as the 5.25-inch display, 3GB of RAM, and 3,000 mAh battery either fit in with previous rumours or make perfect sense for what should be coming on the Galaxy S5. The Galaxy Note 3 has 3GB of RAM and you would have thought the S5 would come with a larger battery than last year's Galaxy S4.
This where the rest of this information starts to fall apart if previous rumours about the device are true. It has long been rumoured that the Galaxy S5 will feature a 16-megapixel camera and the listing suggests it will have 1080p video capture, but the Galaxy Note 3 can take 4K video so you would have thought the S5 will also offer this feature.
Although the Galaxy Note 3 box did have a similar listing while the box does look like the real deal but it could easily be some clever work with Photoshop.
Do you think this is the real deal?
Source (translated).