Google login change after SlickLogin buyout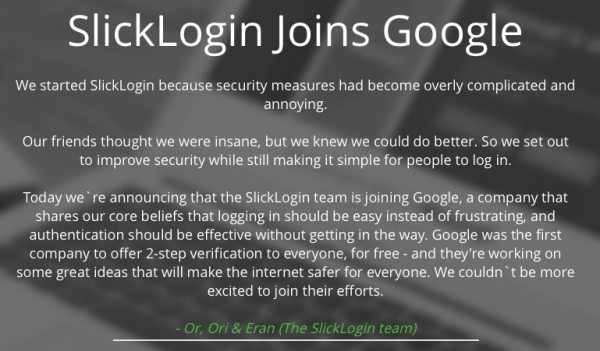 Many Google users use the one page login process to access their Gmail, Google+ and so much more, it was not long ago that Google decided to redesign its login page, which is brilliant and much easier than before. However, things are likely to change again after the Google / SlickLogin buyout.
We like the new Google login and sign-up page design, a few do not. Things will probably change again after Google's purchase of SlickLogin, which is an Israeli tech start-up and now have become the newest member to the Google family.
At the moment when you log in to Google you have to use a username and password, SlickLogin uses patented sound-based smartphone tech that uses inaudible login passwords that can be played via your smartphone and once this has been done allows users secure access. This is all about simplified login procedures with high security in mind; SlickLogin says that Google is working on new ideas to make the Web a safer place to be.
If Google is making changes we can say it is a safe bet that they will make changes to its login/sing-up page, those that visit the gmail.com login signup page as well as all the others will probably in time see new ways to login, Google is always trying to ramp up its security to make life as easy as possibly for its users.
We could be seeing voice and sound recognition on Google login, smartphones have a mic built in so this makes perfect sense, yet again some will love the idea but a few will not and we want to hear from both sides.
Would you be happy open your Google accounts with the SlickLogin voice and sound recognition?