Angry Birds Rio app for Android, iOS update changes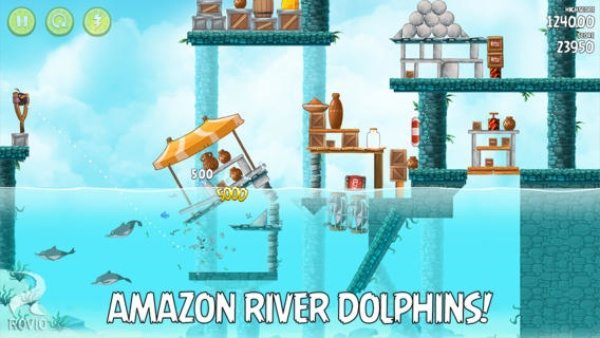 We like to give readers news on popular apps and updates for those apps and today we have details of Angry Birds Rio. The app has just been updated for the Android and iOS platforms and we have info on some of the changes that this update brings.
The Angry Birds Rio game is another in the Angry Birds franchise and sees the fowl being kidnapped and shipped to Rio and they get very angry indeed! After escaping their captors they must also save their friends, macaws Blu and Jaw of the Rio movie.
The game has 8 episodes with 240 playing levels and another 48 bonus levels. The update to the app arrived in the App Store for iOS devices today, and at Google Play for Android devices yesterday.
Changes with version 2.0.0 include a new High Dive episode based on the movie sequel Rio 2, 20 new levels and 6 new bonus levels set in a port harbor of Brazil. The game has also been totally refreshed with new graphics for the Rio 2 chapter.
As well as this it now includes Amazon River dolphins that will also need your help as they are trapped. A new move allows players to dive down underwater in order to bust open the cages. For the Android version of the app head to Google Play here. The game is compatible for devices running Android 2.3 or later.
Alternatively if you want the iOS app head to iTunes. This app is compatible for iPhone, iPod touch and iPad running iOS 4.3 or later. The app is free on both platforms although in-app purchases are available.
Are you a fan of Angry Birds Rio? What do you think of the changes that version 2.0.0 brings? Send us your comments to let us know.