Euro 2016 draw news and more with countdown app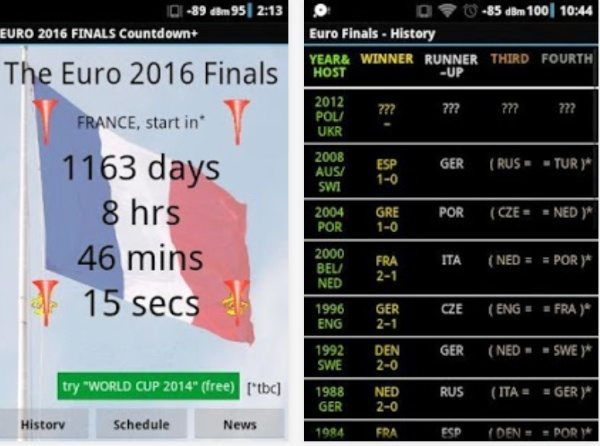 Although it's still two years away there's an increasing amount of interest in the Euro 2016 football tournament, especially with news of the draw. If you want to follow all the latest about the Euro 2016 draw and much more, you can do so with a countdown app that's now available at the Google Play Store and has just been updated.
The EUROs 2016 Countdown+ app will bring you the latest news about the finals that will take place in France. The tournament will involve 24 teams rather than the usual 16, and England seem to have a straightforward job ahead of them to get through the qualifying group stage.
This Android app includes tables of previous UEFA Euro Championship winners and finalists, and as Spain and Italy were the finalists in 2012 it currently also includes their anthems complete with vuvuzela sounds! More anthems are likely to be added the nearer we get to the tournament.
The app is compatible across all time zones and it was updated today to version 0.4.0 to include additional news offerings as well as a schedule button for the Euro 2016 draw. This is a free app suitable for devices running Android 2.2 or later, and if you want to download it you can do so at this Google Play page.
Are you already looking forward to the Euros 2016? What are your thoughts on the Euro 2016 draw and the group your own country has been drawn in? Let us have your comments on this.