Windows Phone 8.1 includes sweeping hardware changes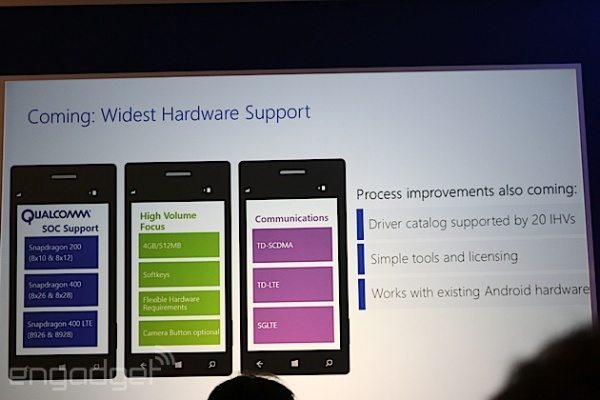 We're already hearing some news from MWC 2014 in Barcelona, even though the event doesn't officially begin until tomorrow. Microsoft has been giving some information about the forthcoming Windows Phone 8.1 update and it includes some sweeping hardware changes.
Snippets about the Windows Phone 8.1 Blue update have been trickling out for some time. We recently heard of Bluetooth certification for the operating system as well as a leaked screenshot of the notifications center dubbed as Action Center.
This latest news comes officially from Microsoft and teases some nice details. One of the big changes with Windows Phone 8.1 will be extended hardware support. More Qualcomm chipsets will be supported, including the Snapdragon 200, 400 and also 400 LTE, with the addition of QRD (Qualcomm Reference Design) compatibility.
Further enhancements will be support for TD-LTE, TD-SCDMA and SGLTE, apps on microSD, as well as virtual softkeys rather than capacitive. The update also means that there will be no need for a hardware camera shutter key on devices, although that will still be available if desired).
In many regions of the world dual SIM devices are the norm and there will also be support for those devices. For example, Live Tiles will be offered for each SIM with Windows Phone 8.1 and messaging tiles for both will be able to be linked together if required.
It has also been reaffirmed that the update to 8.1 will be backwards-compatible to Windows Phone 8 devices, as we previously informed. As well as everything we've previously heard, it appears that Windows Phone 8.1 is shaping up to be a very significant update indeed.
An exact release date for the update to be rolled out to the public is not yet known. However, it's likely that a developer version will be available in April. Are you eagerly anticipating the arrival of Microsoft's Windows Phone 8.1? What are your thoughts on what you've heard so far about this upgrade?
Source: Engadget