Sony Xperia M2 early price confusion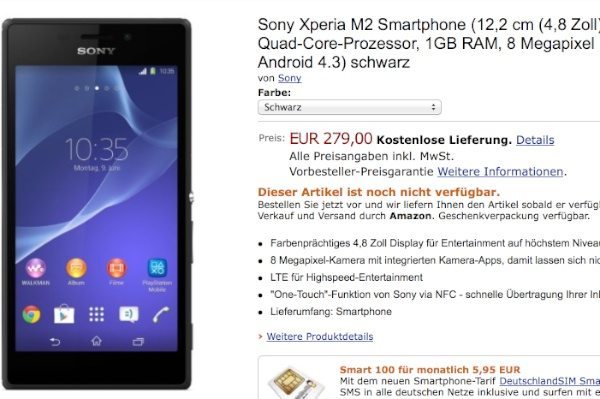 One of the devices revealed yesterday at Mobile World Congress was the Sony Xperia M2, a mid-range smartphone that will release in April. Although Sony did not confirm pricing at the launch event, an early indicator has now led to some Sony Xperia M2 price confusion.
In our launch article about the Xperia M2 we gave specs and further information about the phone. We also gave news that although the price was unspecified, Sony said it would be less than €220. However, the phone has now appeared on Amazon Germany with an official RRP of €279.
Pre-orders are now available for all of the colour variants of the Xperia M2, black, purple and white, at Amazon's German website. This price is quite a bit more than we expected, but of course prices may vary by region and might drop pretty soon after it releases.
As a quick reminder of some of the key specs of this phone, it has a 1.2GHz quad-core processor, 4.8-inch display with resolution of 960 x 540, 1GB of RAM, and 8GB of internal storage (expandable via microSD). There's also an 8-megapixel rear camera and 2300 mAh battery, and the phone runs the Android 2.3 Jelly Bean OS.
It would be good to hear your first impressions of the Sony Xperia M2. Is this a phone you're interested in buying, and how much would you be willing to pay for this upcoming Sony handset? We're always interested to hear your comments.