FCC Speed Test app for iOS now available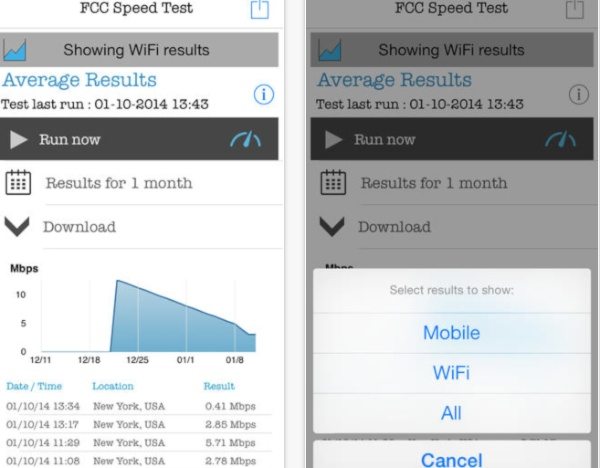 An Android version of an FCC Speed Test app became available on Google Play in November last year, and at that time it was thought that the iOS platform would also receive access to the app by the end of the year. It's taken a little longer but the FCC Speed Test app for iOS is now available.
This app has an interesting idea behind it as when users measure the data speeds on their handsets using it, the information is relayed to the FCC. Rest assured that no personal data is kept, but the FCC does use the data speeds collected to compile a mobile broadband speed map across the US.
The Measuring Broadband America program will enable the FCC to issue reports about the collected readings, and random tests using the app will be conducted by the FCC. This means users may notice the odd occasion when the app activates to acquire a reading.
Given the current climate concerning security and privacy it seems likely to us that some people might be uncomfortable with the idea of a government agency having access to run a speed test on their devices when they choose. However, we should remember that the FCC says that no personal information is collected and that users remain anonymous.
The app not only measures the mobile broadband speed of your device but also offers in-depth details of the performance, such as download and upload speeds, packet loss and latency. Passive metrics are also recorded, including carrier, country code and GPS location.
If you want to check out the iOS FCC Speed Test app from SamKnows you can do so at iTunes here. This is a free app and it's compatible with iPhone, iPod touch and iPad running iOS 7 or later.
Will you consider becoming a volunteer and downloading the FCC Speed Test app for the iOS platform? Do you have any concerns about privacy, or are you assured that the app will not gather personal information? Let us have your comments on this.