Samsung Galaxy Tab 4 7.0, 8.0 and 10.1 confirmed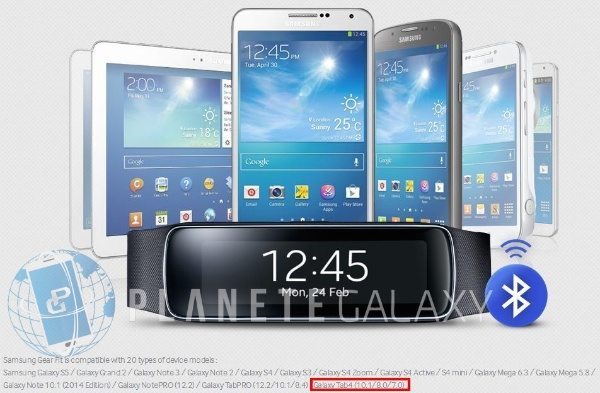 We've been hearing rumblings about Samsung Galaxy Tab 4 tablets for some time, and were expecting that we might see them launched at MWC last week. They failed to show though, but Samsung Galaxy Tab 4 7.0, 8.0 and 10.1 sizes have now been confirmed, albeit unwittingly.
Back in December we saw an unknown Samsung tablet show up on an import tracking site following rumors of an 8 or 10.1-inch new Tab 4 tablet. Following this, in mid-February we reported that we thought three sizes of Galaxy Tab 4 would be unveiled at MWC.
We did see other Samsung devices such as the Galaxy S5 and wearables such as the Gear 2, Gear 2 Neo and Gear Fit announced, but the three Galaxy Tab 4 devices all failed to materialize. However, a spot of documentation referring to the Gear Fit has clarified that the Samsung Galaxy Tab 4 7.0, 8.0 and 10.1 are definitely in the pipeline.
At MWC Samsung said that the Gear Fit would have compatibility with more than 20 Galaxy devices. Now an image listing the compatible devices includes mention of the "Galaxy Tab 4 (10.1/8.0/7.0)." You can see this in the small print highlighted in the image below.
While this revelation confirming the Galaxy Tab 4 tablets might not be exactly surprising, it is good to see the new tablets officially mentioned and not forgotten. As the Gear Fit, Gear 2 and Gear 2 Neo are expected to arrive around the end of this March, this also indicates that the three Galaxy Tab 4 tablets will be available at around the same time, or even earlier.
Have you been waiting for the Samsung Galaxy Tab 4 lineup? Are you pleased to see that the tablet will be coming in three sizes? Drop us your comments in the box below.
Source: Planet Galaxy (Google Translated)