Samsung Galaxy Tab 4 10.1 and 8.0 specs latest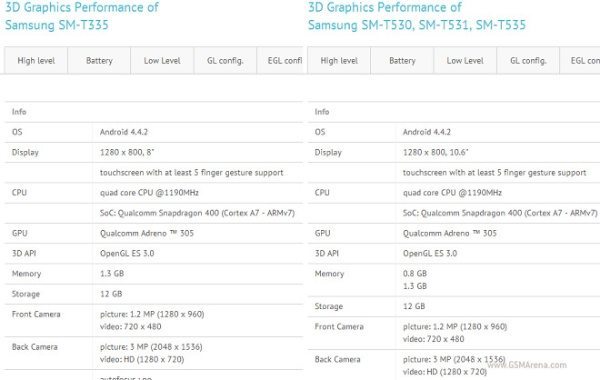 For some time it was thought that new Samsung Galaxy Tab 4 tablets could be unveiled at MWC but that wish wasn't fulfilled. However, earlier this month we saw confirmation that they were indeed in the pipeline, as the 7.0, 8.0 and 10.1 tablets appeared in the small print of some documentation about the Samsung Gear Fit.
Now we have some further information about the Samsung Galaxy Tab 4 10.1 and 8. The Galaxy Tab 4 10.1 model has now appeared at the FCC, with the filing confirming details of the design. It also reveals connectivity options of 3G, LTE, GSM, Wi-Fi a/b/g/n and Bluetooth. As well as this both the 8.0 and 10.1 tablets have been GFX benchmarked with key specs being revealed on the GFX database.
The Galaxy Tab 4 10.1 is listed as having a 1.2GHz Snapdragon 400 Cortex-A7 quad-core processor, Adreno 305 graphics and a 10.6-inch display (mistake?) with resolution of 1280 x 800. Further specs revealed are 1.5GB of RAM, 16GB of internal storage (12GB user available), a 3-megapixel rear camera and 1.2-megapixel front-facing camera. It runs the Android 4.4.2 KitKat operating system.
The Galaxy Tab 4 8.0 appears to have the same specifications except that obviously it has a smaller display. These devices still haven't been made official, but as information continues to leak we feel the release is getting closer. Are you waiting to hear more about the Galaxy Tab 4 10.1 or 8, or perhaps the Samsung Galaxy Tab 7.0?
Sources: FCC AND GFXBench (1)(2)
Via: GSMArena