Nexus 5 vs HTC One M8, value or class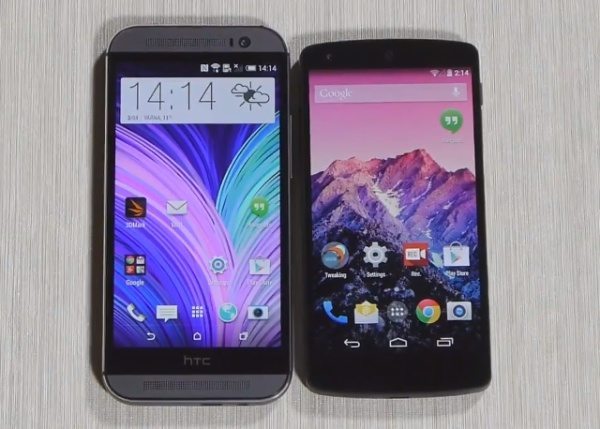 The Google Nexus 5 made by LG released in November last year and has been an enormously successful device, much of this down to the fact that it runs pure vanilla Android. The new HTC One (M8) has only just released and is already winning plenty of praise. Today we have a comparison video of the Nexus 5 vs. HTC One M8.
While it may not have the very highest specs of some of the latest smartphone contenders, the Nexus 5 certainly performs well enough and offers a great user experience at an affordable price. The HTC One M8 on the other hand, is the successor to the popular HTC One and is earning very positive reviews already. The YouTube video that you can view below our story comes from Phone Arena and shows how these phones stand up against each other.
The 13-minute comparison review begins by asking if the HTC One M8 offers enough of an edge to be worth the extra money over the affordable Nexus 5. It begins by showing the designs of the phones before moving on to many other factors including displays, software experience, processor specs, connectivity, camera capabilities, audio quality, battery life, and more.
Ultimately the HTC One M8 is felt to be the most capable device of the two, but this comes at a price premium. It shines in almost every aspect, apart from the camera performance, so has a considerable amount to recommend it. However, although the Nexus 5 may be outclassed by the new One in many ways, it still has plenty to offer and doesn't fall too far behind in many ways. It also has the benefit of getting very speedy Android updates, all at a reasonable price.
After checking out the video below we'd be interested in hearing your opinions. Taking everything into account, would you be more inclined to purchase the value-for-money Nexus 5 or the classy HTC One M8? Let us know with your comments.