Galaxy Note 4 Dark Blue Edition has specs to impress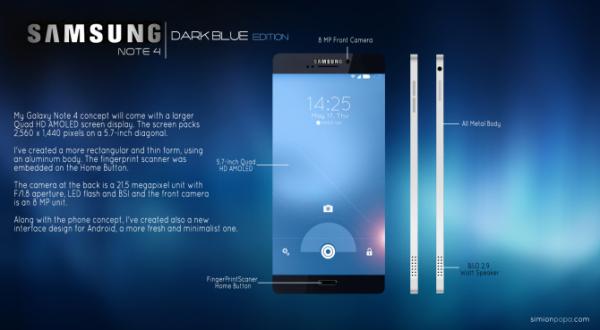 A couple of days ago we heard rumours that suggested the possible design and launch date of the next phablet sized smartphone from Samsung, but the Galaxy Note 4 Dark Blue Edition that we have for you today has specs to impress.
The image that you can see on this page is a concept phone that comes courtesy of Simion Popa, who has created a Samsung Galaxy Note 4 Dark Blue Edition design. The handset has a 5.7-inch display which is the same size as the current model but it is at a QHD resolution.
As you can see the display has no bezels so could be the wraparound screen that has been rumoured for the device previously, and at the bottom we have the fingerprint scanner come home button. On the rear of the device is a 21.5MP camera with F/1.8 aperture and LED flash, while around the front is an 8MP shooter.
There is also a new more simplistic looking Samsung TouchWiz UI and audio is supplied by some Bang & Olufsen speakers, while the handset is manufactured using glass and aluminium.
Do you like this design?
Source: Concept Phones.