New supposed iPhone 6 drawings and mouldings leak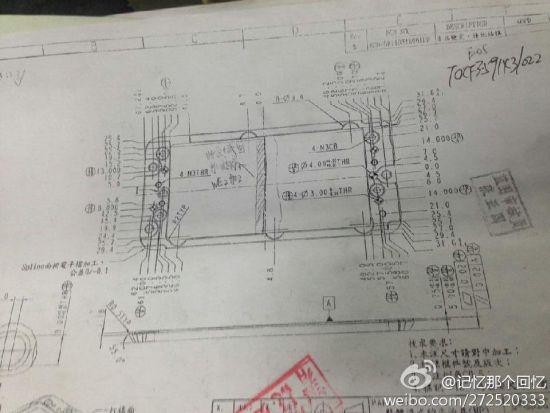 As each day goes by it seems that more information credible or not is emerging about the next smartphone release by Apple, and now some new supposed iPhone 6 drawings and mouldings leak ahead of any official launch.
There have been some alleged schematic drawings of an iPhone 6 model leaked previously, and now some more have emerged from a Weibo account that seems to indicate that Foxconn are gearing up for mass production of the handset.
Drawings seem to show an iPhone 6 with an extremely thin form factor that has a tapered design, as well as chamfered edges. There also larger top and bottom areas of the handset for the likes of the Touch ID and FaceTime camera features.
Other images are showing what could be the mouldings for the body of the handset but it is hard to work out the actual sizing of the handset. We have seen some alleged iPhone 6 dummies leaked before, but just like this latest leak they all have to be taken with a pinch of salt.
There have been conflicting reports over the sizing of the iPhone 6 which is believed to come in two sizes with one at 4.7-inches, while the other model has been pegged at 5.5-inches or 5.7inches.
What would be your preferred screen size for the iPhone 6?
Source: Weibo via AppleInsider.