Samsung Galaxy F seen next to S5 showing thin bezels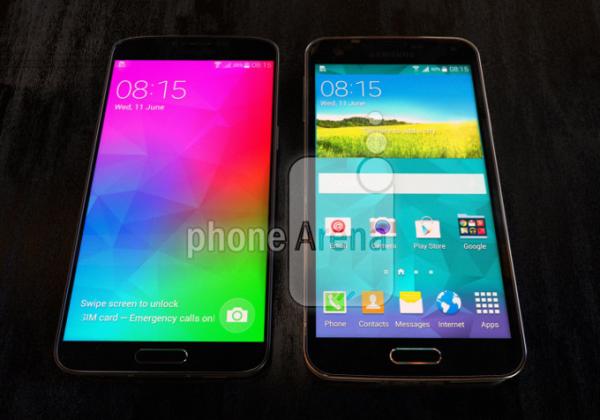 The high end Android smartphone market is heating up nicely this year as we have already seen a number of great devices being launched already, and it is increasingly likely that Samsung has a couple of great looking handsets in the pipeline, as now the Samsung Galaxy F is seen next to the Galaxy S5 showing its thin bezels.
We have seen what is being called the Samsung Galaxy F a few times now that was first going under the name of Galaxy S5 Prime, but now as you can see in this image courtesy of the guys over at Phone Arena the device must be getting closer to a release.
As you can see the Galaxy F has some really thin bezels to match the impressive LG G3 and we can clearly see how the device compares to the current flagship, the Samsung Galaxy S5.
It remains to be seen if the Galaxy F comes with the same level of dust and waterproofing as the S5, but as we have heard before the smartphone will supposedly come with either a 5.2 or 5.3-inch display at a QHD 2560 x 1440 resolution.
Under the hood is thought to be the quad core Qualcomm Snapdragon 805 processor, which was recently tipped for one of the versions of the upcoming Galaxy Note 4. There is also set to be 3GB of RAM along with a 16-Megapixel rear camera with a possible release in September, which is around the time that the Galaxy Note 4 is expected unless the handset in the picture will actually become the Note 4.
Do you like the look of the Samsung Galaxy F and do you think it will in fact be the Galaxy Note 4?