Amazon Fire Phone specs and more made clear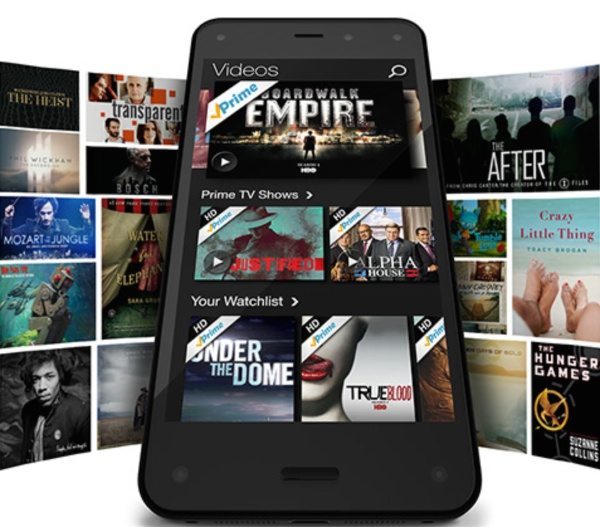 An Amazon smartphone has been rumored for longer than we can remember and now the phone has finally been made official. It's called the Amazon Fire Phone and coming right up we have details of specs, price, features and more of the new device. The phone will be release in July as an AT&T exclusive in the US.
Amazon Fire specs include a 2.2GHz Qualcomm Snapdragon 800 quad-core processor, Adreno 330 graphics, a 4.7-inch IPS display with resolution of 1280 x 720 and 312ppi, 2GB of RAM, and 32 or 64GB of internal storage (non-expandable). It has a dedicated hardware button for its 13-megapixel rear camera, which has autofocus, LED flash, optical image stabilization, and 1080p video capture, as well as a 2.1-megapixel front-facing camera. As an added bonus buyers will get free photo storage (unlimited) with Amazon Cloud Drive.
The Fire Phone has a non-removable 2400 mAh battery, and it runs the Android-based Amazon Fire OS v3.5 with Google Services stripped out. Connectivity includes 4G LTE, Wi-Fi 802.11 a/b/g/n/ac, Bluetooth 3.0, NFC, and microUSB 2.0. It has two stereo speakers to the front offering virtual surround sound while the included earbuds have built-in magnets so that they can be attached to each other and a tangle-free cable.
As far as the design goes, the phone has a rubber frame and there's Gorilla Glass 3 protection for the front and back, with anodized aluminum buttons, and it comes in black. One of the highlight features of the phone is Dynamic Perspective 3D UI which uses four special cameras at the corners of the device to change what is shown on the display, relevant to the user's position in relation to the handset. The phone also enables the use of tilt gestures.
As you would expect of an Amazon device one of the benefits is directly available content including music, movies, TV shows, books and more. There's also a Firefly feature enabling microphone or camera recognition for finding content in its database, and a Mayday feature offering video remote support with a customer service representative.
Pre-orders for the phone are already available at Amazon (head to the source below) and it has a release date of July 25. The no-contract unlocked price is $649 or if you prefer a contract deal the Fire Phone 32GB price is $199 on the usual two-year contract. Alternatively with an AT&T Next Plan you'll pay $27 monthly. If you want the 64GB version the price is $299 on a two-year contract. An introductory offer also nets buyers one year of Amazon Prime.
What are your initial thoughts on the Amazon Fire Phone? Do you think you will be making this your next smartphone purchase?