LG G3 vs Samsung Galaxy Note 3, new or older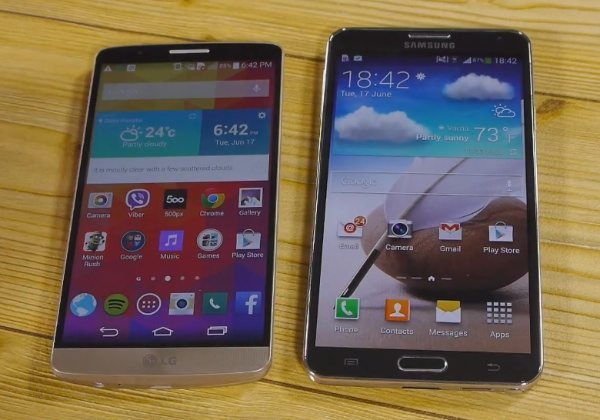 The Samsung Galaxy Note 3 released last year to wide acclaim and LG recently introduced a new flagship in the form of the G3. These are both smartphones with impressive specs and large displays and the new G3 is gaining a lot of attention right now. Today we have a video comparison of the LG G3 vs. Samsung Galaxy Note 3 in a new vs. older battle.
Just before the LG G3 was made official we gave readers an initial specs look at these two devices against each other. Now that the LG G3 has been made official and will be making its way into the hands of consumers over the next few weeks, it's time to take a more detailed look at how they compare.
The YouTube video that we have below this story for you to view comes from Phone Arena and is 20-minutes long, so it gives a really good idea of what these phones have to offer. It begins with discussing the designs, giving an opportunity for some good close-up looks, and then goes on to cover many more important aspects.
Just some of the other areas covered are the displays, software experience and user interfaces, benchmarks, camera capabilities (including sample images and video footage), and battery life. The reviewer does a good job in summing up these two devices, and although you might expect that the new LG G3 would easily trounce the older Galaxy Note 3, it's not quite that simple. We'll leave it for you to see the full verdict but ultimately there's not too much between them.
If you want to check out more about the LG G3 we have recently shown an unboxing video and also a look at its camera performance against that of the Samsung Galaxy S5. Alternatively you can check out all of our articles on the LG G3 here or for the Galaxy Note 3 here.
When you've checked out the video below it would be interesting to hear your thoughts on these two handsets. Do you think you're more likely to choose the LG G3 or the Samsung Galaxy Note 3? Maybe you're going to wait to see what the expected Galaxy Note 4 arrival later this year will offer?