Moto X vs Sony Xperia Z2 camera results compared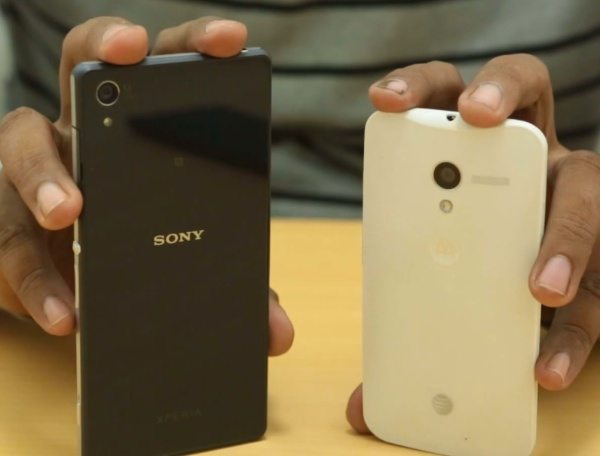 The Motorola Moto X released last year and has been a hugely popular device. The Sony Xperia Z2 is among the newer devices to the market and its release is reaching more regions across the world. If smartphone photography is an important factor for you when buying a new phone then you might be interested in a video showing Moto X vs. Sony Xperia Z2 camera results compared.
Although it doesn't have the top-notch specs of other devices the Moto X offers a good user experience, with decent enough specs and a more affordable price than most higher-end devices. The Xperia Z2 on the other hand, is a new latest flagship device and as such is the more expensive of the two. It's always interesting to see how camera performances of smartphones compare and this is what the YouTube video below this story shows.
The Moto X has a 10-megapixel rear camera with autofocus, LED flash and 1080p video capture, as well as a 2-megapixel front-facing unit. The Xperia Z2 carries a 20.7-megapixel rear camera with autofocus, LED flash, and video capture of 2160p@30fps, 1080p@60fps or 720p@120fps. It has a 2.2-megapixel front-facing camera.
Given the camera specs you might not imagine that the camera results of the Moto X would fare too well when up against the Sony Xperia Z2, and that's what the video from Fone Arena will give you an idea of. The video starts by showing a variety of image samples of the same shot taken in a variety of conditions both indoors and outdoors.
The pictures taken with both phones are shown alongside each other for easy comparison, and for reference purposes some shots taken with the Canon EOS 5D Mark III camera are also shown. The latter part of the video shows some video footage taken with both phones, again alongside each other. It also offers an opportunity to hear the audio quality on each.
We don't want to sway your opinions on the camera performances of these two smartphones, but significant color differences are evident in the still images and in the video clips there's a notable difference in dynamic range and a certain amount of blurring from one device. You might also like to check out another recent camera results comparison between the Xperia Z2 and Gionee Elife E7 smartphone.
When you've viewed the video under this story it would be good to hear your opinions about the camera performances of the Moto X and the Sony Xperia Z2? Why not drop us a comment using the box below.