HTC Desire 816 vs Moto X camera results compared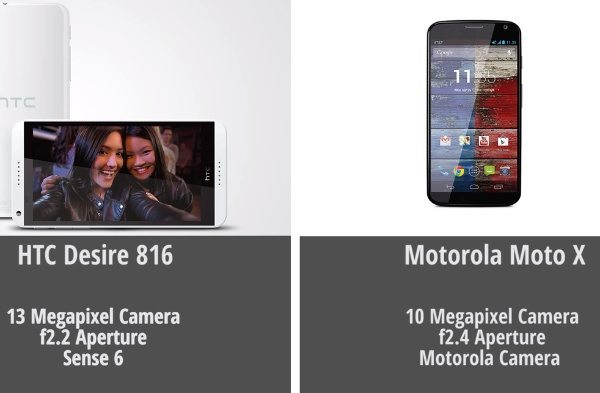 Although many people are only interested in the flagship devices available, there are many people who are perfectly happy with a good mid-range smartphone at a more affordable price. The HTC Desire 816 and Motorola Moto X both fit the bill in this respect, and we have a video today that shows HTC Desire 816 vs. Moto X camera results compared.
These are both extremely popular handsets and you can check out a Moto X and Desire 816 specs breakdown or a video comparison of them at the links provided. For many buyers the camera on a smartphone is an increasingly important factor, so this time it's time to concentrate on the camera capabilities of these phones.
The Desire 816 has a 13-megapixel rear camera with autofocus, LED flash, and 1080p video capture, as well as a 5-megapixel front-facing camera. On the other hand the Moto X has a 10-megapixel rear camera with autofocus, LED flash and 1080p video recording, and a 2-megapixel front-facing unit.
Below this article we're sharing a YouTube video from Fone Arena that compares results from the cameras of the Desire 816 and Moto X. The first part of the video shows samples images of the same shot taken with both phones in various conditions, both indoors and outdoors. They are shown alongside each other so that it's easy to judge the quality of the shots. There are also some images shown that were taken with a Canon EOS 5D Mark III camera for reference.
The camera test continues by showing some video footage taken with both smartphones, again the clips are alongside each for easy comparison. This also gives you the chance to listen to the video audio. We don't want to influence your choices by saying what camera we think offers the best outcome, but we're interested to hear what you have to say.
As far as the camera performance is concerned, do you think the HTC Desire 816 or the Moto X offers the best overall results?