Android L vs Android 4.4 KitKat review shows differences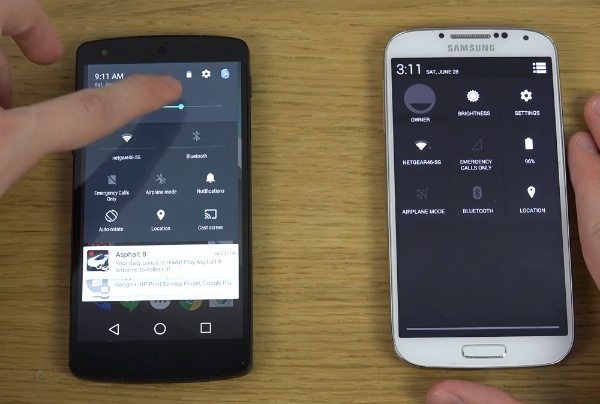 The Android 4.4 KitKat update that released last year is still making its way to various mobile devices, but attention is already turning to the next major Android upgrade, presently dubbed Android L. Today we're looking at an Android L vs. Android 4.4 KitKat review on video.
Android 4.4.4 KitKat recently arrived on the scene, an incremental upgrade to 4.4.3. It has only rolled out for a few devices so far though, and all of the focus last week was on Google I/O where Android L was introduced. The final version number and name of Android L has not been confirmed yet but previously it has been rumored to be Android 5.0 Lollipop.
At the moment Android L is available as a preview for developers, and it's heading for a public release in fall. We've already written about some of the changes coming with Android L and also shared a video discussing pros and cons of the upcoming update. This will be a significant upgrade to Android KitKat and many users are already avidly looking forward to receiving it for their devices.
The YouTube video that we've embedded below our story shows a review of Android L vs. Android 4.4, with a developer preview of Android L on the Nexus 5 shown against Android 4.4.3 on the Samsung Galaxy S4. The review begins by entering Settings on both phones and showing that they are indeed running these versions of Android.
It continues by showing the differences between the lockscreens, with notifications on the handset running Android L and the quick access to the camera and also the dialer demonstrated. It's interesting to see the different versions of the OS on handsets shown alongside each other for an easier comparison.
The review goes on to show many other aspects of Android L and how it differs from Android KitKat, such as the flatter looking UI, the multitasking page with card view, wallpapers, new-look calculator, changes to Settings, quick search bar, revamped keyboard and much more. While the developer preview of Android L is not the finished article, this review does give a nice taster of what to expect when this OS version releases to the public.
Once you've checked out the video below it would be interesting to hear what you think of Android L so far? Are you already looking forward to receiving this update for your Android device later this year?