Microsoft Surface Phone render offers style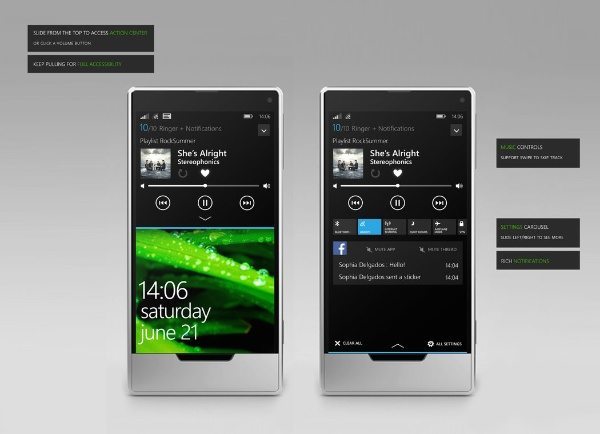 Microsoft has seen a certain amount of success with its Surface and Surface Pro tablets and this has sometimes led to speculation that perhaps a Surface Phone might surface (excuse the pun!) one day. Today we have a Microsoft Surface Phone render to show you, and we wonder what you think of this design.
This is not the first Surface Phone concept idea we've seen and you can see a couple more that we've shared previously here and here. We've also shown a Microsoft Surface Mini tablet concept design that you might be interested in and you can see this here.
This new Microsoft Surface Phone concept teases us with possibilities of what could come to the real deal if Microsoft ever gets round to it. It comes from designer Loris Lukas and we think it looks very stylish and something that plenty of people would like to be seen with.
The image here shows that it has design hints of the Nokia Lumia smartphones as well as the Surface tablets, and the designer has thoughtfully included some imagined specs for this Surface Phone vision. It has a 5.5-inch display and 41-megapixel rear camera with Pureview technology. There's also a central button and on the top right side there are 2 volume buttons while at the bottom right you'll see a camera button. The On/Off button is along the top of the handset.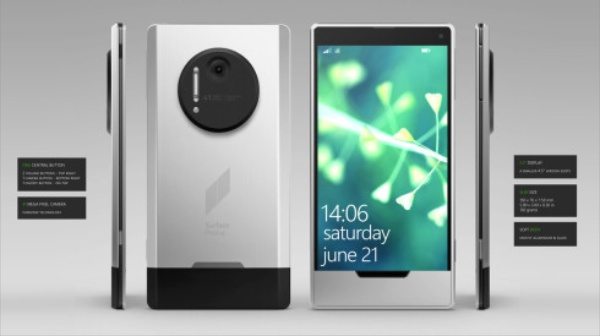 Feature-wise you'll find Windows Phone 8.1, Cortana, a Settings Carousel, music controls that support swipe to skip, rich notifications and an Action Center that you can access either by clicking a volume button or by sliding from the top. We'd also imagine either a Snapdragon 801 or 805 quad-core processor with 3GB of RAM to round off the picture.
This looks as though it has a premium metal build, which many smartphone buyers favour. The reverse of the handset looks a little bulky and you can see that it has angled edges, probably to give it a slimmer feel. We like this concept Surface Phone very much, but we'd like to hear your thoughts.
Is this Surface Phone design something you'd like to see Microsoft come up with? What would be on your specs and features wish list for a genuine Surface phone? Let us know with your comments.
Source: Loris Lukas (DeviantArt)
Via: Concept Phones