Android L on Nexus 5 vs iOS 8 on iPhone 5S review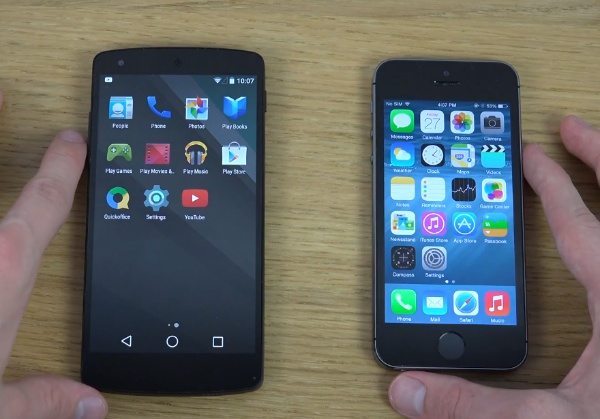 It's always interesting to see operating system upgrades vying against each other and there are two major updates on the way. Apple's iOS 8 was recently unveiled at WWDC and is currently in the beta stage heading to a public release in fall. Then at Google's I/O event last week the wraps were taken off the next major Android update, currently dubbed Android L. Today we're sharing an Android L on the Nexus 5 vs. iOS 8 on the iPhone 5S review on video.
Android L is also set for a public release in fall, and hopefully before that time the final version number and name will be revealed. We've already shown an Android L video depicting some of the pros and cons as well as another video comparing Android L to Android 4.4.4 that you may be interested in at the links provided.
A preview of Android L has already been made available for developers to get to grips with, and it's this version shown on the Nexus 5 that is used for the YouTube video that we've embedded beneath this article. Meanwhile the iOS version is iOS 8 beta 2 shown running on the iPhone 5S.
At the beginning of the video you'll see the lockscreen of both devices so that you can compare the user interfaces. The handsets are then unlocked and the reviewer shows the easy access to Google Now and also access to Siri on the iPhone. The Control Center on iOS 8 is also demonstrated followed by the equivalent for Android L.
The video continues by showing further aspects of each such as multitasking, powering off, and the keyboards. We feel this review gives an interesting look at how these different operating platforms work and what the new updates will offer to end users. If you want to see more information on both of these OS upgrades you can head here for Android L or here for iOS 8, where you'll find our previous articles available.
After you've checked out the video below we'd be interested to hear your thoughts about Android L and iOS 8. Are you a diehard Android or iOS enthusiast? If so, which is your platform of choice and why?