HTC Android 4.4.4 KitKat update schedule appears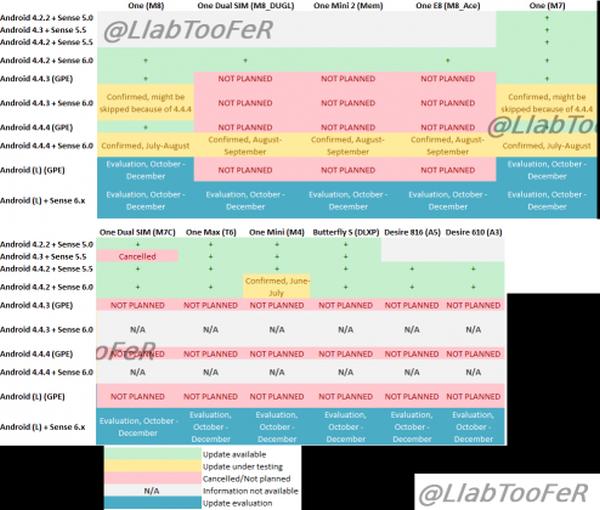 The Android platform is gearing up to be updated to a redesigned mobile operating system in the form of Android L, but in the meantime an HTC Android 4.4.4 KitKat update schedule has appeared that provides an early indication when some handsets can expect the new firmware.
Reliable HTC tipster LLabTooFeR has provided the chart that you can see on this page that possibly gives us some idea when we can expect to see the last version of Android KitKat hitting a number of devices.
Both the HTC One M7 and M8 smartphones are down to receive the Android 4.4.4 KitKat update along with a new version of HTC Sense sometime between July and August. Other handsets in the range such as the HTC One mini 2, and One E8 are listed as August through to September.
The HTC One Max and original HTC One Mini may skip Android 4.4.4 and go straight onto Android L according to the insider that has a good track record with all things HTC. The company has already promised that the likes of the HTC One and M8 will get Android L within 90 days of its initial release by Google.
It is also being suggested that all handsets from last year and 2014 will be upgraded to Android L, although it is mentioned that the full system requirements for the upcoming new firmware are not yet known.